Why is Content Marketing as important as Digital Marketing in today's trends?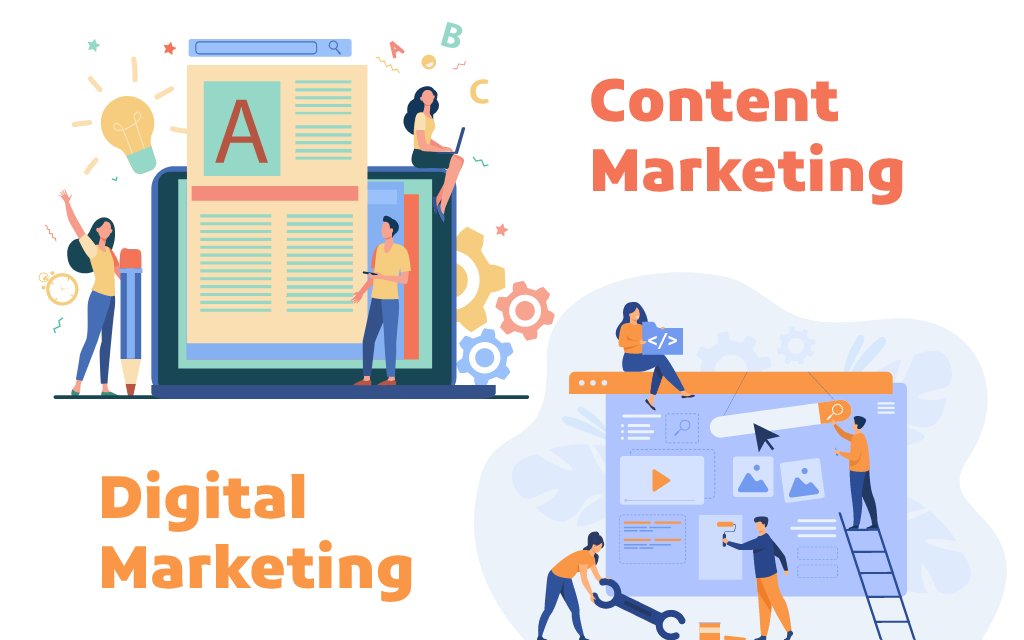 It is no news that marketing plays an extremely indispensable role in the growth and sustaining of any business, despite the genre. Most people lean towards 'making sales' as the way for a successful business. This might not be the case all the time. The content that forms the foundation for building your business is as important as any other marketing strategy, or sometimes, even more important. Before you dive into the analysis of which strategies to adopt for growing your business, it is essential that you understand what these strategies are all about.
Content Marketing and Digital Marketing
Content Marketing works on driving sales and stimulating customer interest by means of different 'content components' such as blog posts, photos, videos, etc. Focusing on engaging prospective customers can be of great help when it comes to improving sales and content marketing creates more brand awareness than any other marketing strategy out there. More customer acquisition and longer retention can be the best way to keep a product or service relevant in the market. The type of content you associate your company with can aid in building trust and retaining lasting customer relationships. Creating quality content and engaging with customers in your blog forums will help you up the path of becoming a trusted expert. This way, your target market will get more inclined to your product or service.
On the other side, Digital marketing services make use of strategies like PPC, SEO, or social media advertisements to capture conversion and to drive customers to the business' website. Content marketing focuses mainly on engagement whereas digital marketing is focused on sales.
Incorporating elements of content marketing
If you opt for making content marketing your primary sales-driving strategy, the best way to start is with blogs. Blogging regularly can be more than helpful in building trust and it will do so only if you present well-curated content of prime quality that will engage readers in the right way. Efficient blogging can help your website climb ladders in the search results which in turn will divert the traffic to your page. The best way to manage the process of blogging is to create a defined schedule and stick to it religiously. This schedule must incorporate the frequency of blogs for a month, potential topics that are relevant, and even images that would be appropriate for the presented content. Planning all these factors ahead will allow you the time to curate your blogs and publish them on time.
Creating blog topics can be challenging especially if you are a blogging novice. Blog about what your business does best, show customers your back story, or discuss new trends in your market. Come up with an engaging title to reel in your audience and then use excellent content to hold their attention. Speaking of your audience, It's crucial to know who they are and what they want out of a blog.
Content marketing via blogs must aim at facilitating your audience with the right information that is factually correct and impressive at the same time. After you publish the content, it is also important to keep track of the analytics to understand how people are viewing the same. Customer feedback must be considered and it is essential to deliver what is expected by your targeted demographic.
Today's Trend
The impact of COVID-19 on the world and how companies function has called for reassessing marketing strategies as a whole. This has positively impacted content marketing as there is more opportunity for presented content in the area of marketing planning. Digital marketing might do the job of driving the traffic to your site, but the content you present is what makes them stay. While every company is looking to sort an integrated marketing technique out for the post-COVID world, the importance of content marketing is becoming more evident. 
In most cases, companies find it hard to align the overall digital marketing efforts across different aspects such as products, regions, and other functional areas. Some companies even go through a phase of frustration because of the lack of a cohesive strategy for digital marketing. Besides, building an integrated digital marketing strategy and involving different teams of a company with the said strategy can be challenging but has the potential to revolutionize everything. 
There is no denying the fact that marketing strategies as a whole, along with content marketing are evolving and this process is pertinent for optimizing different layers of any company's system. Most of the content generation strategy has its focal point on customized content and its interactions. This stands true for both B2B and B2C companies. Hence, a strategic content approach that is cohesive and promises to add value will serve as the best marketing tool for any business.
You may also like to read this Post:-
Why content Writing is important in today's era?