Is Content Writing a Good Career Path in India?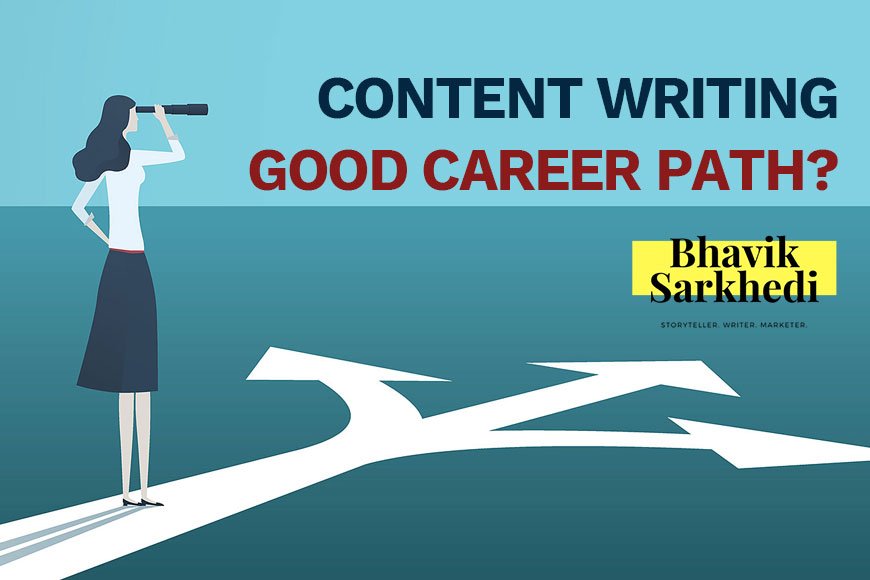 While you are at it, think about what you are reading at this point in time itself. Yes, it is content that you are brushing through. Content that we provide to you. That is, in a nutshell, the closest rendition of content writing; A text that is either informative or recreational posted or published at an online website or page. Now, to decide whether it is a promising career in India or not, we will have to delve into the far finer details on this path, weigh them against the times, and we are confident that by the last few lines of this blog, you shall have a clear understanding of my stance on this agenda.
Content Writing is an umbrella term underneath which breathes various tributaries. From the aspects of blogs, newsletters, and notification emails to academic content writing, technical content writing, report writing, etc., the demand for this skill is at its peak during this time. With websites and online pages cropping up every second, everyone is in search of a writer that can cater to his customized set of demands and present the same on his page with appealing comprehension and crisp and correct grammar. Well, from this thought, readers, and most importantly, writers, do not be deluded that by the simplicity.
To accurately calculate the dexterity required in content writing, I would say that it is insurmountable. There is no set definition for a good content writer. To explain the term, it is an ordeal, to be honest. However, if you are good at wielding your language and processing your thoughts to match the pace of your clients, I must say that you have got yourselves a good deal. To understand the need of your client, to cater to his type of content is an art you will need to acquire through practice and precision, but once there, this becomes a very convenient path to pursue your career.
Venturing forth, the curious mind could pose a question that, "Alright, very convenient and appealing are adjectives, but what is the correct manner in which one can look to progress along the lines of content writing in this present time?"
Content writing necessarily does not demand any form of degree or certificate. However, as an opinion, I would advise you to keep an undergraduate degree in any discipline of your choice. Since then, your success has been directly proportional to the amount of effort you put in. Here again, action is bifurcated into a set of strategies and habits that a writer must cultivate to ensure that he is updated and well informed of the present state of the industry. Now there is no particular industry as such that promotes content writing. Although various firms promote job openings and opportunities, the crux of this work is almost omnipresent at every endeavour, firm, and company. With the rapid growth of online forums on the web, all of these firms are looking for skilled writers to frame their content so that it is appealing to their clients. So, if by chance or ill fate, you have heard that there is a scarcity of jobs for content writing, rest assured that is not the case, and you shall be baffled by the volume on the contrary. However, bagging one from this infinite volume could be a challenging task. There now, one wonders about the habits and strategies I mentioned earlier.
For being a good content writer, first, you have to be a good content curator or, in simpler terms, a good reader and researcher. It is imperative to come across topics and agendas you barely have an idea about. At this point, your first step should be thorough research about the subject.
Research
Opting to be a writer is almost apparent; no term is absolutely alien to you. Even if it is, it is probable to nest a vague idea. From there, you need to begin your search into that topic and learn all there is about it. At times, this might be an ordeal or rather a time-consuming endeavor, but it comes with the job. Research is a crucial part of content writing, and without that habit, you might as well be a person swimming blindly in this vast ocean.
Each day while you brush this skill and add a little more to your arsenal, be advised that you are developing a skill that would help you in every aspect of life. The essence of information has no prosthetic in this world, and that mettle to curate and dig out the most appealing information is a skill that is highly valued in this industry.
Writing 
If you have heard from somewhere or someone that it takes an exceptionally creative mind with an undying flair for language accompanied by a plethora of lucrative phrases fused with an exquisite vocabulary to succeed in this industry, believe that person because he is not lying. However, do not be disillusioned by the person or the blunt manner in which I have put this ahead.
The part related to success comes later in this field. It is the courage, to begin with, that matters the most. Content Writing can be a very exhaustive job if you lack inspiration. So first and foremost, it is essential to have a knack for writing. Once established that we can assume, ignoring some personal vendetta with grammar, you can frame sentences and arrange them in the form of paragraphs.
Done that, all you require is to put together your information, employ a little skill and creativity and write down the bit. However, you are done with the tricky bit once it is out. What follows is a simple strategy. Your article or write-up need not necessarily be hosting a lot of fancy phrases or words. The necessary bit is to convey the thought. Considering that most content writing is for websites, it is a forum visited by a diverse set of people. Therefore, you do not want your language to be gaudy that people lose the focus from the topic to understand the phrases themselves. You want to keep it simple and in a properly flowing narrative. Remember to address a single concern in each paragraph, and you are set.
SEO 
Walking into the technicalities of this field, we are to encroach upon the most sought-after skill in content writing, SEO optimization. Search Engine Optimization can lead you a far way ahead in this field, and to explain it perfectly, I may have to write a separate blog for it. Nonetheless, in a nutshell, it is the manner for content writers to form their articles to get them ranked in google. Better the SEO, better the rank for the article. As a content writer for a website that deals with competitive content, unless you have established a steady flow of traffic, this becomes your following best tool to attain the traffic besides your content.
Within this umbrella term, there are various other tools like keywords and Meta descriptions along with article length and readability, which contribute to the success of an article on the web. Thus, before beginning work in this field, I would advise everyone to gain some basic understanding of it through YouTube videos or online courses, or any medium of their choice. It could be that your neighbour explains it better to you than videos. But yes, do figure it out.
Done that, you are ready for this career ahead, and now the question that poses ahead is how to walk forward. Now the entire population on the internet is divided over various schools of thought. Aiming for a job, to begin with, should be your first goal. A job at a website, a page, a social media platform, wherever it may be. Starting your time in this industry with a job will actually teach you the essential manners to survive amidst the cutthroat competition. Etiquettes like adhering to deadlines(sorry), understanding the idea from the client, maintaining a specific structure in the articles, and proofreading it(sorry) before submission are a few of these. More importantly, this is when you imbibe in yourself everything mentioned in the first paragraph beneath the subhead of writing. Those skills are acquired, and if you neglect them, this job will become very monotonous for you. Approach your seniors, your editor if you have one and inquire about where you can improve; what more can you instill to make your content more engaging. The strict discipline within a job will beat you into shape for the real deal, which is freelancing.
In India, very few career paths offer the flexibility that freelance content writing does. Having endured through your time working jobs at two to three companies in about a couple of years or so, if you are convinced that you can work on your own accord, start with building a network, this time, at your forte. To explain the perks of freelancing, I might have to form another blog, but our main aim is to address whether you, my friend, can earn a living while enjoying your time in content writing.
To encroach upon comparing payslips, a fresher joining a company as a content writer is offered an annual package of 2-2.5 lacs, and an experienced writer is provided a maximum of 4-6 lacs per annum. One must wonder that it is not among the highest-paying careers in the market. Well, you will be shocked to know that a renowned freelance content writer can charge up to or even more than 100 dollars for a single blog. Imagine bagging such projects by the number of 10 per month which amounts to almost 90 thousand INR per month. If that is not a good-paying job, I must say that you will be disappointed by most of the jobs today.
Moving on, I must not give you any false hopes, but I acquired quite an amount of acclaim; you could also earn a fortune through blog writing. Creating a blog is as simple as cake, and if your content is very appealing and you manage to acquire a steady flow of audience and traffic, you may not need another job for the rest of your life. However, much of this depends upon your following and the amount of acclaim you carry. So, this is not the road, to begin with. However, as content writers, we must always have a personal blog of our own, which acts as your portfolio and other jobs. This blog, however, turns into your holy grail as each time you need to provide a testament of your skills, you can refer the client to this link. Chalking out a rough estimate for a writer who earns through his blogs, it ranges on the border of 40 thousand to 1 lakh INR each month based on the blog's reach, publicity and acclaim. Yes, it sounds very alluring, but you have to be a writer of the best mettle there is to match the standards.
In competition, the freelance field here holds the most of it as each of you will be harbouring experience and necessary skills. It will just be your effort and creativity setting you apart from the rest. If you manage that, there is no career that could be as convenient as content writing. Having related to the audience and struck that perfect note of conversation in your write-up, you are bound to succeed and gain the desired remuneration. With the perks of working from anywhere to being your boss, your career in content writing ages like wine if you put the effort and turn the correct knobs.
To conclude, I shall refer this career to anyone even having the slightest impression of pursuing this in their minds. I can personally vouch for a great time ahead, and no career offers such a diverse range of possibilities like this. With the growing age of digitalization, content writing will go a far way forward, and I would advise you to be a part of it. Just one minor criterion: you have to be good at your niche or forte and exhibit effort.
What Job roles can you fetch in leading companies as a content writer?
Content writing is a career option that is emerging with time. The evolution of digital products and dependency on technology has made the content more vibrant. This is because; a good application without good UX content in it is not usable. So, content writing offers you a plethora of job roles. If you are a content writer, the below-mentioned job roles can get discovered in reputed organizations and development companies. So, have a look at the below job roles.
Web content writer
This is a job role that demands the drafting of the website content of the organization you are working for. You can work as an in-house writer in writing companies, as well as in digital marketing agencies.
Creative content writer and editor
This is a job role that you will find more in the publishing houses.
Script Writer
Script Writers have more demand in the film-making industry, and you can earn millions.
Conclusion
It will take time to become a content writer, as it does with most things in life. You must go through the learning curve in order to improve.
The more you read, the more proficient you become.
You will gain a better understanding of it as you learn more.
Your flow will improve as you write more.
Yesterday was the ideal day to begin writing, and today is the second best day to begin.
In the comments box below, tell me about your road to become a content writer.
FAQs
What does content writing have in store for the future?
Every day, about 2 million blog articles are written, according to the MarketingProfs research. This number is predicted to climb at an exponential rate in the future. As a result, there are significant gaps in the demand for and supply of quality content writers. The demand for authors is always greater than the number of writers available.
Why is content authoring beneficial, and how does it work?
When it comes to connecting brands with their consumers and audiences, high-quality content creation is vital. Audience engagement and retention are also improved by content. Encourage your audience to participate in your brand by providing relevant information, and your customers will keep coming back for more.
What are some novice content writing tips?
For newcomers to content writing, here are some helpful hints:
Always create one-of-a-kind content – Plagiarized or copied content will make a negative impression on your customers. Your client is never going to hire you again.
Don't write long paragraphs – Keep it short, clear, and concise. Write brief paragraphs instead. Short paragraphs will make it easier for your reader to understand.
Make an outline – Before you start writing an article, make an outline. An outline will assist you in producing high-quality and effective content.
Add CTA (Call to Action) – The call to action in your piece is crucial. Conversion is the primary goal of content creation.
HAPPY WRITING!!