Are SOP writers for tourist visas different?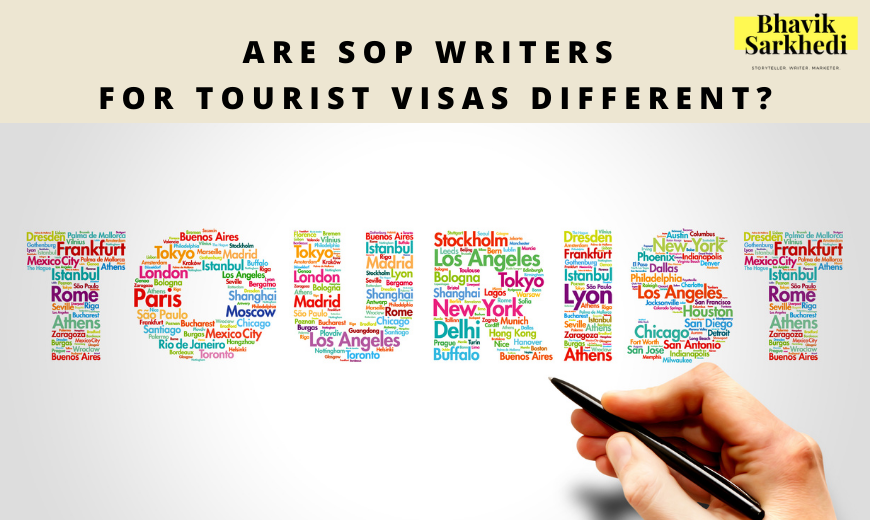 Visiting a country abroad inevitably demands an SOP for tourist Visa. A well-drafted SOP decides whether you will get the visa for the nation you want to visit or not. A tourist visa statement of purpose is an entire document that visa officials verify. It is not like SOPs for universities where the decision-makers are admission committees.
This clarifies that the Statement of Purpose for Visitor Visa is completely diverse from standard academic SOPs. In such cases, hiring academic SOP writers won't help you! You need professionals SOP Writers for Visitor Visa who have relevant experience in drafting SOPs.
The best SOP writer for tourist Visas is always full of knowledge and tricks to make a visitor visa SOP more interesting. They focus on your purpose and make it unique so that visa officials cannot reject it. Here learn how SOP writers for visitor visas are different.
What are some of the most typical concerns people have while drafting a SOP for a guest visa?
While writing a SOP for a Visitor Visa, many worries and concerns arise in people's minds. Here are a couple of the questions that will be answered:
Word Limit: While there is normally no length restriction while developing a SOP, it is recommended that it be kept around 1000 words. Put all of the necessary information in the SOP in a clear and straightforward manner.
Presentation of the reason for the visit: Everyone has a different reason for visiting the country. Many people are concerned about how their purpose should be presented in their SOP. The reason for your visit should always be stated explicitly in the SOP.
Tone & Style: Because the SOP is a formal document, you must maintain a formal tone and writing style throughout the document. However, in order to avoid appearing too inflexible, the tone should not be overly formal. To prevent being informal, it should not be written in a casual tone. The best approach is to write the SOP in a conversational and neutral tone.
Parameters: Several parameters should be mentioned in your SOP. These include information about your visit, the length of your stay, and the trip's sponsorship, among other things. These are discussed in greater detail in the following section.
Tourist Visa SOP writer mentions legitimate purposes
The SOP writers for a tourist visa are qualified professionals. They know what information is prevalent in SOPs. While writing your SOP for a tourist visa, they mention all your legitimate purposes. Whether a wedding to attend or a medical emergency, they maintain the right format and tone in SOPs to highlight your purpose.
Professionals maintain accuracy about information
While Academic SOPs demand precise data about academic background, tourist Visa SOP also asks you about some details. It includes the number of days you will stay, the places you will stay, what are the return planning, birth nation, and many more. SOP writers for a tourist visa are well aware of such data. They draft your SOPs with information that is accurate and would convince visa officials.
Consistency in format and tone
The SOPs for a tourist visa is in no way similar to academic SOPs. Many applicants make the mistake of applying with the same type of visa written by the same writers. However, they end up getting a rejection. The tourist visa SOP writers maintain the desired format of writing to avoid hotchpotch in SOPs. The SOPs that they create are easily understandable by the officials. This offers you fewer chances of rejection.
When it comes to formatting, tourist visa SOP writers know what formats are accurate for nations you want to visit. They also have an online sample that enables you to learn about the format and write a statement of purpose for visa application.
Unique and 100% original
When you are writing SOPs by yourself, there are chances you can take examples from samples. Your writing can be an influence on some masterpieces. But the SOP writers for a tourist visa are masters themselves. They create your SOP from scratch to main 100% uniqueness in your SOP. Uniqueness with clear intent about visiting enhances the chances of approval. So, you should also hire professional SOP writers for tourist visas other than hiring any other writer.
Conclusion
Keeping it precise, some facts state SOP writers for a tourist visa are completely different. Hiring professional writers with relevant experience would rather be a mature decision leading you to success.