10 Must Visit Places in India for Food Lovers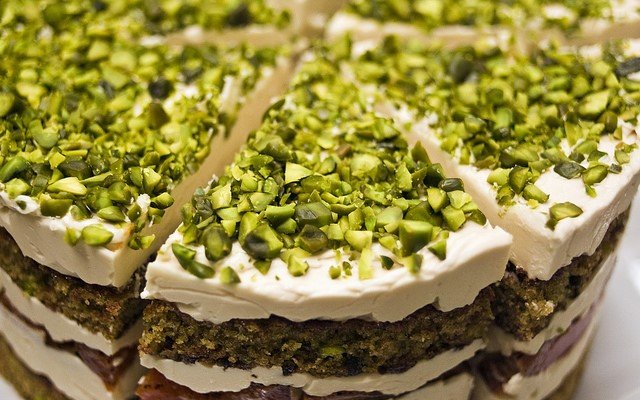 If there ever was such a thing as a food paradise, it is right here on Indian soil. The warmth and love of Indian hospitality can truly be felt with the heartwarming food that is made in its kitchens. The magic that is spun from the hands of India is sure to make every foodie's mouth water. If you live to eat, head on over to any of these food havens in India and discover the joy of eating.
Hyderabad
Photo by Dheerajk88, CC BY-SA 4.0
The city of Nizams, Hyderabad is every food lover's dream. The city is a delicious salad of Mughal, Turkish and Andhra cuisine giving the most delectable choices to everyone's palate. The city's name is almost synonymous to biryani with the Hyderabadi dum biryani a favorite in every part of the country. Other delicious choices offered by this cuty are Dum Pukht, Boti kebab, Malai korma and Maghaz masala (spicy and fried lamb's brain.) 
Delhi
Photo by Alpha, CC BY-SA 2.0
Let the (food) capital of India entice your taste buds with its spicy and flavorsome street foods. Savor in the North Indian cuisine with some lip-smacking paranthas from Paranthe waali gali in Chandni Chowk, the chaats from the street food shops, and some mouthwatering jalebis and gajar ka halwa to celebrate your happy moments.
Lucknow
Staying true to its regal past, the city of Nawabs has the best in store to satisfy your hunger. Relish the aromatic Galoti kebabs and Nahara kulcha. The Lucknow biryani is also a must try for its beautiful taste and fragrance. Eat like the Nawabs in this city offering legendary food for both vegetarians and non-vegetarians.
Kolkata
Photo by Biswarup Ganguly, CC BY 3.0
You can count on the Bengalis to prepare succulent and appetizing cuisine for you to devour. Try the puchkas and yummy rolls from the street corners or enjoy the various varieties of hearty fish curies. Other delicacies to try in this food heaven include Alu Posto and Sorshe Ilish (Ilish fish cooked with mustard paste.) Satisfy your sweet tooth by indulging in misti doi, Kaalakand and the evergreen Rasogulla.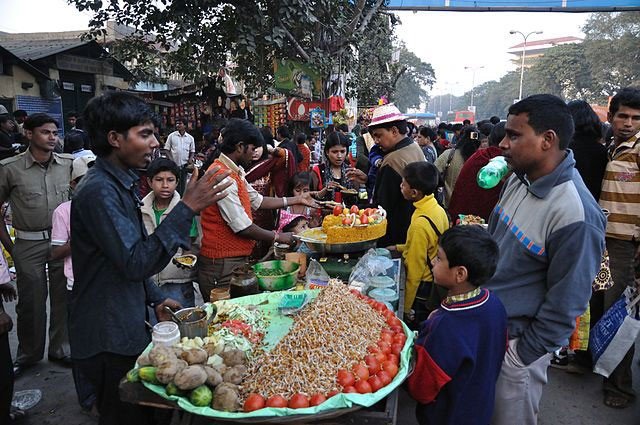 Darjeeling
Photo by Tavallai, CC BY-ND 2.0
Get captivated by the colonial charm of Darjeeling's food. If you want to have a bite of the most authentic Mediterranean food, head on over to this quaint hill station. Indulge in some soft waffles, yummy pancakes and bacon, all with a North-East Indian twist.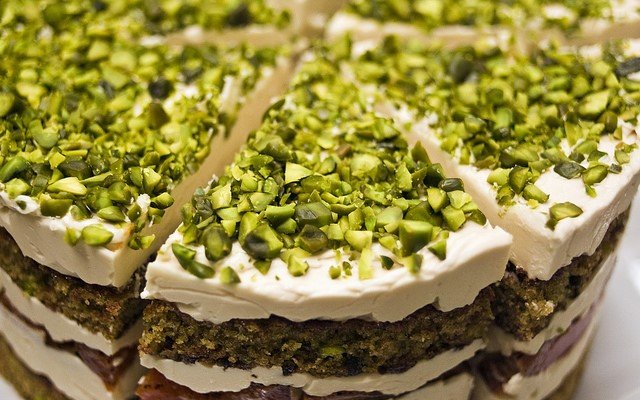 Amritsar
Photo by jasleen_kaur, CC BY-SA 2.0
The birthplace of dhabas and ghee-laden paranthas, Amritsar's spicy, heavy and thoroughly tasteful delicacies are sure to linger on your taste buds long after your trip. The huge kulchas with the famous Amritsari chole, Amritsari fish, and Paneer Bhurji are going to make every kilo you gain absolutely worth it.
Goa
Photo by Extempore, CC BY-ND 2.0
Goa, the perfect combination of revitalizing beaches and delectable seafood, is a must-visit for those whose love for food is bigger than their stomachs. Be sure to treat yourself to varieties of prawn, crab, squid and fish preparations. Accompany your seafood platter composed of Crab XecXec Curry and Ambot Tik Sour with the famous Feni, a strong, aromatic alcoholic drink.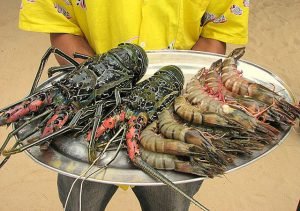 Kochi
The potpourri of flavors offered by Kerala are and will remain unmatched with the world. Kochi is sure to offer you a variety of choices in terms of authentic South Indian food, including the wholesome Kerala beef roast. Dive into the aromatic flavors of Kochi and eat monstrously to your heart's content!
Photo by Challiyil Eswaramangalath, CC BY-SA 2.0
Pondicherry
Photo by SEN, CC BY-SA 2.0
Pondicherry invites you to the exquisite blend of French and Indian cuisine. The little France of India serves not only the very best of the world-famous French cuisine but also some great traditional dishes. Transport yourself to a little French café and savor Salad Niçoise, Quiche and Coq au vin. The traditional delicacies at Auroville Asharam would bring you back to the Indian soil.
Kashmir
Photo by Colin Tsoi, CC BY-ND 2.0
India's own heaven, Kashmir is gorgeous not just for its picturesque landscapes but also for its divine dishes. The unique flavors of Kashmiri dum aloo, Gogji Nadir and haakh are going to make you savor every ounce of these preparations. And if you're in the mood for some royal treatment, enjoy the multi-course Kashmiri cuisine called Wazwan.
With so many varieties to choose from, your thirst for food is never going to run out of options in India. At every nook and corner, be sure to make your taste buds dance on a different rhythm at these 10 food hubs.