Your guide to Professional SOP Writing Services for MBA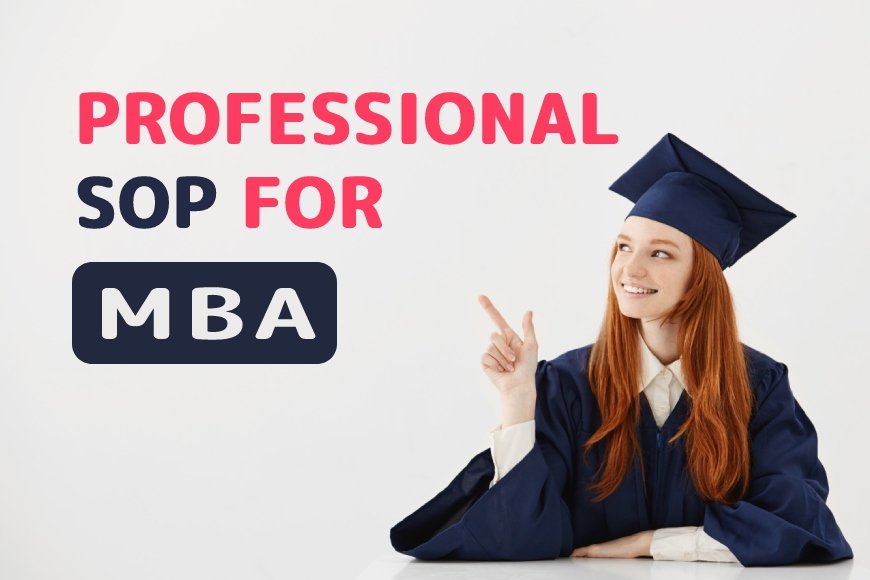 Writing a Statement of Purpose for MBA, which is also known as 'SOP' in short is a crucial requirement for any school or university that provides a course referred to as 'Master of Business Administration'. A SOP for MBA admission is always the first step when it comes to getting admission in a reputed or well-known B-School since the essay entails what are the exact reasons you wish to pursue an MBA, what kind of goals you wish to achieve in your academic as well as professional life and last but not the least, how your studies done during your Undergraduate years will serve its purpose or even remotely have a connection to the MBA course you wish to be a part of. Most of the SOPs have requirements which serve to make sure that there is a uniformity amongst all other submissions from other students who wish to be part of the course and these SOPs have instructions that are clear-cut and need to be kept in mind and followed at all times.
The Statement of Purpose may sometimes be asked for either in 400 words or almost up to 750 words and what you choose to write should be articulated in a correct manner so that one does not ramble about information that may not be deemed as important. The individual can make sure that there is aptness as well as accuracy in the information that is being put forth in a manner which can be seen as pleasing and also gives the impression to the reader that the goals are expressed in a clearly thought out manner. What the individual must understand when it comes to submitting their SOP is that the authority who takes a look at the Statement of Purpose for the MBA program must be under the impression that you would be a perfect fit for their course due to the way you present yourself to them, before they are able to converse and interact with you, in person, and have a better understanding of who you are as an individual.
While beginning to write your SOP for MBA admission, remember to extensively give information about your academic journey from the previous institution that you were associated with. Make a mention of how reputable your institution was, about your grades as well as accomplishments worthy of being spoken about in great detail. These accomplishments could be anything from being awarded accolades in Olympiads that are academic by nature to receiving merit-based scholarships. Significant contributions of any and every kind during your academic venture should most definitely be elaborated upon while writing about important academic achievements, since it will give the committee who goes through your SOP for MBA admission, a better interpretation of the dedication you portray when it comes to work being done.
As you proceed further on in your SOP write up, the next most important thing to be thoroughly discussed is your professional venture. In this portion of your SOP for MBA program, you could broadly speak in length about the achievements you worked for and towards such as recognition, promotions, contribution to the growth of the company in a significant manner, and so much more. Along with this information, remember to give detail about your character conduct such as being a great leader to your team mates, pliancy when it comes to performing various roles as well as functions, etc. Another section could be included in your essay that gives weightage to activities that are extra-curricular by nature. Although, some essay requirements may not ask you for this but, otherwise, you may talk about anything that may be seen as remarkable that is outside of your academic or professional journey. If given a chance to work on the extra-curricular activities that you were able to take part in, it will give the committee who will be going through your document a better perspective about you and you would also have an opportunity to share your thoughts about the impactful visions you may have in store for the future. A Statement of Purpose for MBA with work experience makes it more likely for the committee to consider you as part of the program due to your prior experience in the industry you were avidly a part of.
After these portions of your essay have been meticulously worked on, you will be required to answer the questions that ask you why you aim to pursue an MBA program as well as why particularly from the school you have applied to. The logic behind answering these questions is so that the committee will have a clear understanding of how passionate you are about wanting to pursue the course and to understand how much thought you put while considering said school for your MBA program as well as to get a comprehensible vision of your drive. They will also be able to identify you as someone who can see everything eye to eye and in a rational manner and is wellversed regarding the dos and don'ts of the nuances of the MBA program. In order to ensure the quality of your responses to the questions laid out in front of you, make sure to note them down in the form of 4 or more points. These points would talk in a vivacious manner regarding your motives as well as the objectives you wish to fulfill or aim to work towards for the duration of the program. To give more clarity with respect to answering the responses to the point, the first question could be answered in the form of explanations where you wish to enhance your career with the right kind of guidance, achieving an in-depth cognizance of the subject area you are interested in and so on, and the second question could be answered by mentioning how relevant the MBA program structure is, as it directly impacts your learning from your previous institution in a positive way and how in sync the modules are with your goals in your academic as well as professional venture.
You may also like to read this Post:-
3 SOP Writing Services in India for MBA, PhD and MS