Udaipur – You are my Travel Inspiration for Next Solo Trip
It wasn't usual and obvious when I decided to go Udaipur in Mid-March. Yes, it's scorching hot out there. Why would I go and spend my weekend alone there? Nobody had an idea and I really wanted to give none a hint about it. The trip to Udaipur has been one of my memorable solo trips ever. Here's why. As soon as I entered the bus, I got the 'Adrenaline' feel that something huge is coming tomorrow and with 'huge' I meant 'Mammoth'. Everybody must be aware of 'The City Palace'  and the 'Pichola Lake'. Yes, I was going to the city of lakes and heritage. Why wouldn't I be excited? As the solo trips go, I met people in my commuting who asked me about the reasons and purposes I travel alone and just like every single previous time I answered them the same, "You know it's good to travel alone. You get to know yourself."
I never realized that the usual simple stupid answer was actually the right answer to tell myself too. I travel alone and I feel good. Coming back to the wonderful city Udaipur, I (who is not a great fan of taking pictures) caught few amazing clicks (I wonder) of the beautiful corners. Few of them have been epic because I could feel 'Varanasi' when I entered the 'Ghat'. Oh, that 'Ghat'.
The Ghat, the wonderful ghat, people around me and I. I could literally see nothing else. I still don't know what it was but it was splendid and ineffable.  People with DSLRs and the photographers go crazy about everything they see in the city.
Udaipur also known as the "City of Lakes" or the "Kashmir of Rajasthan," is a major city, municipal corporation and the administrative headquarters of the Udaipur district in the Indian state of Rajasthan. It is the historic capital of the kingdom of Mewar in the former Rajputana Agency. I see the culture, tradition, and Rajasthani-feel in the veins of local crowds. People from across the globe came to see the palace and they couldn't be more delighted about it. As an Indian, I feel proud of it. They praise our country and our culture. India is a land of diverse traditions and the scenic beauty of Rajasthan fills wanderlust's heart with pride and peace.
When I was traveling, I could see not a single known people around me and that felt shockingly good. I talked with the tourists and guides and locals, ask them to click my pictures and they happily do it. I made many friends (Surprisingly, I am an introvert). Yeah, traveling alone has changed many significant notions about many things. You become open-minded and start loving people, places, and the world. I am sure the 2-day trip has injected so much inspiration in my head and heart that I swore to myself that I would be a world traveler someday. Exploring Udaipur is an experience I learned
You know what peeps? You should travel alone too. Try once and I promise you won't regret. This is my 6th Solitude venture after Goa, Vadodara, Diu,  Mahudi, and Mt.Abu.  I, undoubtedly, confirm to #SayYesToTheWorld. Do you?
Though blurred you can absolutely see the elegant look of  'Ghat' in the night and the friendliness of the local guys selling 'Chana Chol'. People are adorable and Chana Chol was delicious. Fantastical palaces, temples, havelis and countless narrow, crooked, timeless streets add the human counterpoint to the city's natural charms.
It is great if you had been to Venice. If not (as I have never been) and if you would like to know how it would feel like to be in such a lovely atmosphere, you may have to land in Udaipur, famously called the 'Venice of the East' and 'The City of Lakes'.
To Udaipur,
Who knows what is it in you that makes you so ecstatic?
Who knows what is it in you that makes you so transparent?
Who knows what is it in you that makes you so happening?
Maybe, it's just you with yourself.
It's your attitude towards the people you meet
It's your kindness to the people you talk
It's your blessing from the people you take
It's a grace, a gift from God you got.
Also, Bhairavgarh Resort is a luxury resort in Udaipur is perched on top of the picturesque Aravali hills. (It was not in my budget but I wish I would stay here next time :p) You know the inspiration I was talking about? Yes, traveling inspires you to do things, to roam places, to work hard, to achieve dreams and to see every corner of the world. By the way, the image below was captured while I was driving the 'Rented' vehicle and I stopped by just to click the picture of the wonderful resort of Udaipur.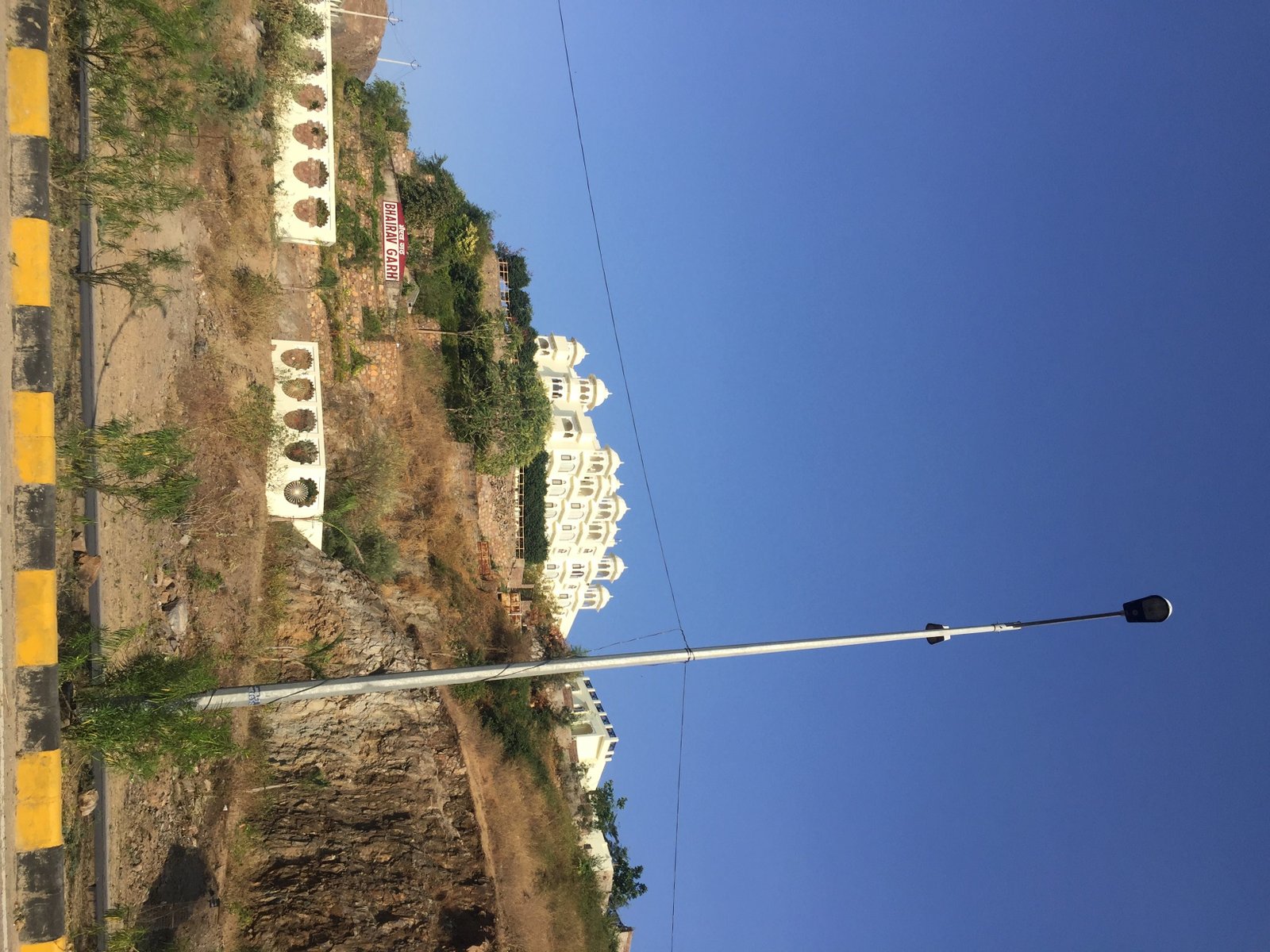 While traveling back to my home, I missed Chester a lot when the lyrics murmured inside me, "I became so numb". As the light is a spectrum. Particle or wave, as scientists explained, Udaipur proved to be that 'Light' for me. You see the window in the picture? It was the lights telling me to 'Stay' :p. But, seriously, 'Jane Kya Dikh Jaye' of Rajasthan tourism campaign justifies every single bit of it.
Since I blog regularly and I travel frequently, I have to carry my Headphones (to keep the nuisance away) :p I wish I could travel more and far so that my next trip is in 'Lufthansa' and not in 'Bus'. 😀 😀 Call me a  solo traveller or this journey be my travel inspiration,  or me being an open-minded dude, today, I have started to love this world and life more.
To my soul and heart, this poem is for me and everyone who loves to travel.
बस यही करना चाहता हु में, अकेले दुनिया घूमना चाहता हु में
नए नए इंसानो से मिलना चाहता हु में, नई नई जगह देखना चाहता हु में
ज़िंदगी बहूत छोटी हे इसमे मे, सब कुछ देखना चाहता हु में
ख्वाहिश बहूत बड़ी हे या छोटी पता नहीं, अकेले दुनिया घूमना चाहता हु में
It translates as:
If only I could do whatever I wish, I would travel the world alone
Meeting new people and seeing new places would go on and on
Life is so short and I wish I could see every corner and nooks alone
It may seem fictitious but I wish I could travel alone on and on.
I love you, Udaipur!!!!!! I, undoubtedly, again confirm to #SayYesToTheWorld. Do you?
PS – All the pictures are clicked by me. The traveling dates were 24-25 March 2018.