TOP FAQs for Resume Writing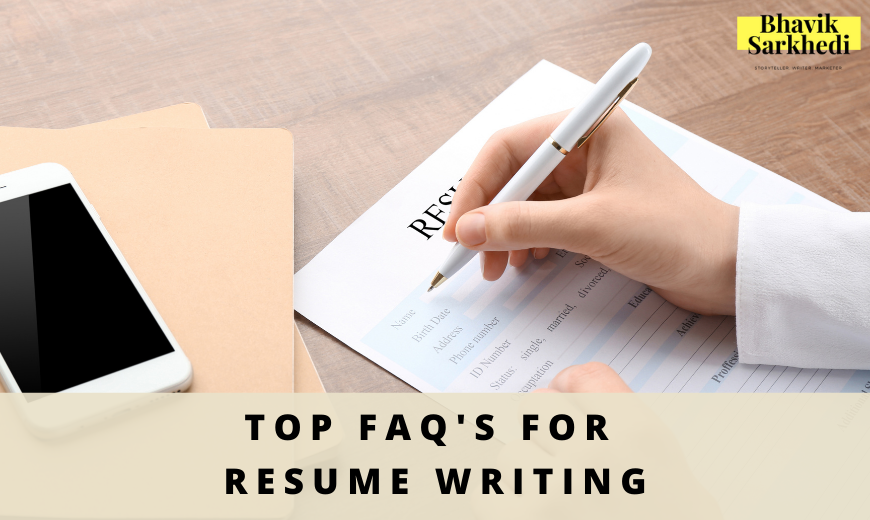 What information should I include on my resume?
Your resume should give employers a comprehensive picture of your professional experience and accomplishments to date, highlighting all of your relevant skills and accomplishments.
Some people like to add a short personal summary that introduces themselves, their work history, and the next career step they want to take, which is a wonderful way to personalise your resume.
Contact information, past work experience, education, your top accomplishments, and applicable abilities should all be mentioned in your resume. When resume scanning software is utilised, using keywords that were used in the job description will help to ensure that your resume is highlighted up.
What are the most important considerations I should make while I construct my resume?
Depending on your level of seniority, industry, and personal circumstances, there are a slew of things to keep in mind while you create your resume. If we were to sum it up in a single piece of advice, it would be to constantly put yourself in the shoes of the recruiter who would be reviewing your CV. If you do that, you should think about the following as a starting point:
• Make it unique to the task. This is the single most critical thing you can do to ensure that your resume passes application tracking systems and following rounds of human inspection. You want the reader of your resume to recognise that you are a good fit for the job and that you took the effort to customise your approach.
• Honesty is the best policy. This is not the time for modesty, but it is crucial to be honest. When detailing previous work experiences, use action verbs and include a section for notable accomplishments or honours, if you have any. To strut your stuff, employ performance-focused and quantitative measures whenever possible.
• Make up a story. Your resume should have the overall effect of validating the story you told in your cover letter about why you're the best candidate for the position. These two documents should work together to capture the attention of the hiring manager and persuade them that you are the right person for the job.
Should I hire a professional resume writing service?
Hiring a professional is one of the practical ideas to beat the competition in a job application. Professionals offer you exposure to a better future by drafting the most demanding resume. Thus, if you want to achieve a higher position in your future, you should hire professional writing services.
What are the best affordable resume writing services?
Bhavik Sarkhedi and Taletel is the best and affordable resume writing service provider offering you quality resumes. Here affordability has been measured with quality to offer you the result. These two agencies have always satisfied aspirants in terms of price and quality both.
Have you used a resume service and had any luck?
I have been applying for several organizations for the past several years but didn't respond. It developed frustration within me. But in the last application, I hired resume writing services named Bhavik Sarkhedi. Eventually, I got my dream job invitation. So, I can say resume writing services don't offer you any bad luck.
How professional resume writers can help?
Professional resume writers have trained experts who know how to frame your professional career precisely. They Narrate your career down with a simple resume that helps employers better understand your past roles. So, professional resume writers can really help you achieve your professional career objectives.
Are there any good resume writing services?
Bhavik Sarkhedi and Estorytellers are good resume writing services. They offer you a resume that meets employers' demands and cater to all qualities that they look for in potential employees. Both these agencies have quite experienced resume writers who are known for establishing careers for applicants.
How do I find a best resume writing service?
Finding a resume writing is not a very monotonous process. You can easily get the best resume writing service with some online research. The qualities that you must anticipate in service are recruiter-friendly writing, 60 days interview invitation assurance, easy moving forward of resume in HR screening round, and use of advanced resume writing tools.
Is a resume writing service worth it?
Yes! Hiring resume writing services is really worth it. You can move on rapidly towards your career objective by hiring professionals. Professional resume writers implement the most advanced trend of drafting the resume that brings you to the spotlight.
What is a good resume writing service for US market?
The best resume writing services for the US market include Bhavik Sarkhedi, Resume Writers Direct, ResumeGo, Lets' Eat, Monster, Taletel, Write Right, The Muse, and Top Resume. These are the resume writing services that return you the best on your investment.
What is the best professional resume writing service?
The best overall resume writing services must include all the qualities that can fetch you interview invitations. Some of the best names are Bhavik Sarkhedi, Taletel, Estorytellers, and Write Right. You can also contemplate Bhavik Sarkhedi amongst the best.
What is the best executive resume writing service?
Executive resume writing services cater to resume writing for industry leaders who aim for higher executive posts. It demands the inclusion of several experiences to make the resume robust. The best overall executive resume writing services are Taletel, Bhavik Sarkhedi, The Writing Guru, and Estorytellers.
What are the best tech resume writing services?
If you aspire for any technical job roles, you must draft a technical resume. The best resume writing services for technical job roles are:
Taletel
Bhavik Sarkhedi
Estorytellers
Write Right
Where can I find recommended resume writers?
Recommended Resume writers are usually accessible online. Most of them are easily traceable on SERPs. You can also get recommendations from someone who recently got a job after hiring professional resume writing services.
Why Should You Hire Professional Resume Writers?
Hiring professional writing services is always a better thought. If you aim for more salary and a better future, you should always hire a professional. It is because professionals come with all sorts of knowledge to draft the best possible resume.
What is the best executive resume writing service in India?
The best executive resume writing services in India includes:
Taletel
Bhavik Sarkhedi
Estorytellers
Write Right
What is professional resume writing?
A professional resume writing service is a team of writers with extensive years of experience in drafting resumes. They create the most High-quality resumes that cater to the demand of any employer.
Should I hire a professional resume writing Company?
If you anticipate a better result in your job search, then you must hire a professional resume writing company. It is because; professionals promise you a 60 days interview invitation assurance. So, yes! You must hire a professional agency.
How much do you charge for resume services?
The price of resume writing services depends on the type of resume you want. We usually offer three types of resumes. It includes:
Standard Resume writing
Technical Resume writing
Executive resume writing
The cost of usual resume writing is around Rs. XXX.
What are some automated tools for resume writing?
It is not possible to create any resume using any automated tool. So, there are no automated tools for resume writing. However, you may get several templates and samples over the internet. The resume-building tools available also need human interference in creating a resume. This makes it apparent that there is no fully automated resume-building tool.
What are the top listed resume writing services in India?
The top listed resume writing services are
Taletel
Bhavik Sarkhedi
Write Right
Estorytellers
These are some of the top-tier resume writing services offering the most advanced resume writing.