Karma Soup/Soup for the Soul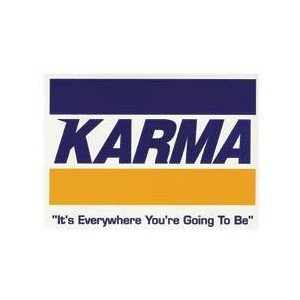 Many of us grew up learning about Karma and the reality in it.
THE KARMA SOUP/Soup for the Soul
No matter what we do, is counted as our Karma and it comes back around someday in our life and we get to face our own deeds in some other form!
People nowadays have lot to say about Karma. When we see someone getting troubled or facing miseries we start counting the bad deeds that the person had done and we declare his miseries as the matter of his own Karma.
We all are involved in it! All of us do so at some point or the other.
But is it of any use? Are we someone who has been placed at some position of counting and judging other people's deeds? Nope! We're not! And we never are perfect enough to judge others.
Through karma plays its role strongly but watching and enjoying it is not what we're meant to do.
If we believe in the strength of our Karma, we better make it right and we better be in Karma's good books.
Good Karma brings good consequences and bad karma brings bad ones. We all know it damn well so why not follow the right path, do the right things, stop hurting people and stop doing the bad deeds our self? Why not make our Karma better so that we can get better consequences.
Instead of counting and keeping an eye on other's Karma, let's resolve to peep inside our own soul and better our own Karma, for the sake of our own good life!