IPL: Instant Publicity Licence
What pops into your head when you hear the word IPL?
Let me guess for you.
RCB, mighty sixes, nail-biting climaxes, funny-yet-creative IPl-themed advertisements, sponsors, fat paychecks of those sought-after players, dog-eat-dog rivalries between teams CSK and MI, etc. Depending on your inclination, you may pick one or the other or a few.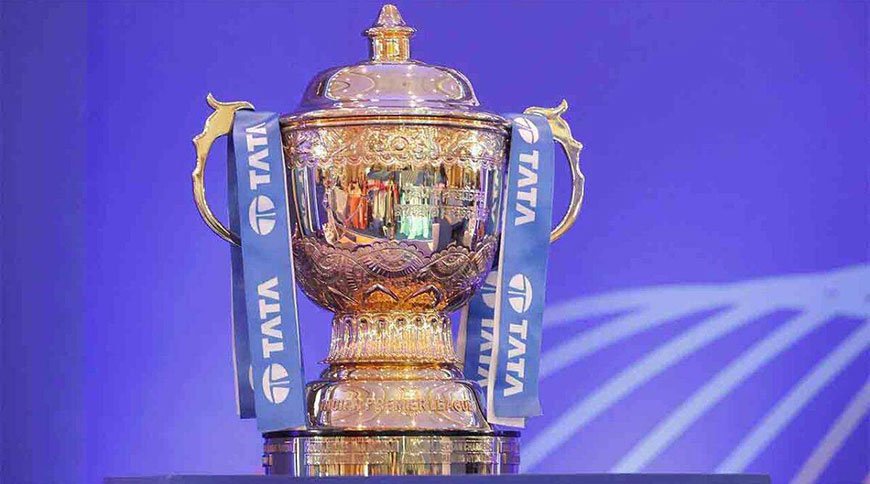 Tata IPL Trophy 2022
But the IPL (Indian Premier League) is more significant than we think. I was seven years old when the IPL started. It was like Diwali for the cricket fans. As my Naanu (maternal grandfather) was such a sports fan, I had to see matches the whole day despite my interest in cartoons. But as time went by, IPL matches had generated such a deep interest in cricket that I haven't missed a single season or tournament after that. That 158* from Brendon McCullum made me a hardcore cricket fan. Even as I grew up, I have seen many controversies, new entrants, and head-turning decisions in the IPL, which gave me the idea to write this article.
So what is IPL? Is it just cricket or more than that? Why is every game so fun to watch? Is it because it is scripted like a soap opera? Why do so many companies pump money into the IPL? You will find answers to such questions in this article.
Marketing Consultant Prernaa recently asked people what made them believe that IPL matches are fixed.
While a section of IPL fans batted for the league's genuineness, some avoided beating around the bush. "IPL is a money-making machine. It is a choreographed cricket entertainment and nothing else," a Twitterati said.
Any match can be fixed by one or two player but not by whole team so who are thinking like this then they should not watch Cricket😌

— Vipin singhal (@Vipinsi80039103) April 9, 2021
Big bets happens on matches

IPL is money making machine. It's a choreographed cricket entertainment and nothing else

— SudhiP (@SudhiP2) April 10, 2021
Tweets by fans on the topic of IPL fixings
Despite the ifs and buts around IPL, fence-sitters like me are glued to the TV sets and mobile phones during every IPL season, thanks to our love for cricket, specific players, and distinctive shots!
First, let me tell you some facts:
IPL is the world's most famous cricket league, ranking 6th among all sports leagues in regular attendance in 2014.
IPL's brand value in 2019 was Rs 47,500 crore, according to Duff & Phelps.
BCCI said the 2015 IPL season brought Rs 1,150 crores to India's coffers.
With 3.15- crore average impressions and a 23- percent increase in overall consumption over the 2019 season, the 2020 IPL season broke the previous viewership record.
So let's start from scratch. IPL is a Twenty-20 cricket tournament league created to encourage cricket in India and develop young and skilled players. The tournament is an annual competition between teams representing different Indian cities/states. The Board of Control for Cricket in India (BCCI) founded it, and it has since grown into a massive, lucrative cricket endeavor.
After all this success, why does IPL have a lousy image? Let's dig deeper.
After the enormous covid impact, the IPL is in its 15th season, and it is more successful than ever before. Essentially, the IPL entails financial investment, sportsmanship, devotion towards a city/state, and a large fan base. Consequently, the result of each match becomes highly crucial to all parties involved. Every game is nothing short of a nerve-racking thriller flick. The uncertainty is the fruit of the league's complicated regulations, a team's luck (toss, for example), and the players' abilities and performances on a particular day.
One could say that IPL is India's most recent and exciting "24-hour reality television show".
A quick look back at the league can bring a lot of boiling points back to the discussion.
To name a few:
There were/are annual broadcast rights struggles between media giants.
There were actors vs. actresses and brothers vs. brothers in the exact match.
A star captain chastised his team in front of the press, only to be sent back to the pavilion for just ten runs in the next game he played.
Two states mulled banning cheerleaders for their "obscene" dressing.
Let me tell you, or I can say, recall the significant controversies hovering over IPL for the past few years,
1. BCCI: As a result of the IPL, the BCCI has been embroiled in numerous disputes with different cricket authorities worldwide. The critical point of debate was that the contractual players ought to be available for international tours for their country, even if they conflict with the IPL season. The BCCI proposed that the International Cricket Council (ICC) set aside a specific time frame for the IPL season. At a subsequent meeting of the ICC, this request was denied.
2. Media restrictions: The IPL initially imposed strict guidelines for journalists covering matches. The use of photos captured during the event had to be acquired from cricket.com, controlled by Live Current Media Inc (who secured the rights to use such images), and live broadcasts from the cricket fields were prohibited. The IPL published a revised set of guidelines on April 15, 2008, including essential concessions for print media and agencies, which the Indian Newspaper Society approved.
Other controversies were the withdrawal of the Pune Warriors and Pakistan players from IPL during Ind-Pak tensions. There are numerous financial disputes concerning IPL, but I will focus on the major ones here.
3. About tax exemption status: The Centre sparked a controversy when it granted tax exemption to the International Cricket Council (ICC) on money produced from the then just-concluded World Cup Cricket Tournament, potentially worth 45 crores. Others involve the suspension of Lalit Modi and two franchises — CSK and RR.
4. Player corruption scandals: Fixing demons are a significant embarrassment for the IPL. The public outcry over match-fixing in 2012-13 was felt across the country. Games that went down to the last overs were put under the microscope by ardent cricket fans as questions about the validity of such games arose.
Former Pakistani bowler Shoaib Akhtar, cheerleaders, and Former Indian bowler Sreesanth.
Many fans who had been watching IPL for decades had already quit watching it, and even though no more match-fixing incidents were reported in the news, the rumours persisted.
5. Commercialization vs. development of local talents: The IPL was supposed to provide more opportunities for Indian uncapped players to play alongside world-class foreign players, but it turns out that team managements are more concerned with selecting winning teams than with offering more chances to youngsters who have been warming the bench for years. Ricky Bhui (a good Andhra talent) and Baba Aparajith, a previous U-19 World Cup winner, are just two examples.
6. The humongous flow of cash via betting: We might still argue about the match-rigging part, but there is no doubt when it comes to the existence of betting. This has been a severe issue for the league, possibly even more so than the demons of fixing. For their alleged involvement in betting, two teams (Chennai Super Kings and Rajasthan Royals) were given a two-year suspension.
As you have seen, it's easy to find faults with the IPL, but the league also bears fruit. Find them below.
1. Entertaining Medium for People: IPL has been the most popular form of entertainment during the COVID19-induced lockdown times, allowing Indians to enjoy cricket without leaving their homes, excite their children, and relax after long days of WFH days. IPL's gaining popularity in other nations proves its entertaining capability.
"Universe Boss," after hitting 175*
For example, RCB's nerves are in MI's performance in the last qualifier matches this IPL season. At the same time, India was waiting for the result of MI VS DC. It was the top news for the whole day until Tim David made it his show in the last few overs.
Tim David's statement after the fabulous performance in MI vs. DC
2. Best Platform for New Faces (Cricketers): IPL is the leading and most prominent platform for emerging cricketers in cricket. Every year, fresh faces are introduced. They are also being selected for the Indian cricket squad. To date, the IPL has produced several notable cricketers. Cricketers, including Rishabh Pant, Shardul Thakur, Umran Malik, Shivam Dubey, Abdul Samad, Ruturaj Gaikwad, Devdutt Padikkal, and Yashaswi Jaiswal, got a fair share of popularity and money from the league.
New Indian bullet- Umran Malik
3. Adds Revenue to the Economy: As mentioned earlier, IPL contributes to India's GDP. For example, the 2015 IPL edition contributed around 1,150 crores INR to the nation's GDP.
Let us deep-dive into the finance of IPL, and see how IPL makes money. Their primary sources of income are,
Broadcasting
Ticket Sales/Gate Revenue
Sponsorship
Brand value

Decoding IPL revenues by IPL math
Title Sponsorship:
DLF, India's largest real estate developer, was IPL's title sponsor from 2008 to 2012, followed by a four-year term by PepsiCo, a multinational food, snacking, and beverage conglomerate, and Chinese smartphone maker Vivo from 2016 to 2017. Dream11 has been selected as the sponsor for the 2020 IPL. Since the 2021 IPL season, Tata Group, an Indian global conglomerate, has sponsored the league.
Brand value:
Financial experts estimated the IPL to be worth 37,000 crores in 2018. According to Duff & Phelps, the figure for 2019 was Rs 47,500 crore. Signing a new television agreement with Star India Private Limited, which has more spectators because the IPL is being broadcasted on regional networks in eight languages, contributed to the IPL's rapid development in value.
Ticket Sales/Gate Revenue:
Each club is guaranteed a minimum of seven home games, giving them a fair chance to make money. The percentage of ticket revenue earnings is roughly 10% of IPL's economy. The home team receives a fixed rate of overall ticket sales, while all IPL club owners profit from ticket sales.
Broadcasting:
Star aims to broaden the popularity of the IPL with a "core" cricket fanbase during its initial season. From January till the start of this season, the network planned to air at least 2 hours of IPL-related programs every day, including televised declarations of player retention and new team captains. The player auction's viewership climbed sixfold to 4.65 crores, with pre-and post-auction comments and commentary.
2019 finals had surpassed all previous records, with 1.86 million simultaneous streaming viewers. Hotstar's rebranding as Disney+ Hotstar was initially planned to coincide with the start of the 2020 season. The next cycle of IPL media rights will begin in 2023. Companies such as Amazon, a consortium between Sony Pictures Networks and Zee (which are in the process of merging), and a group led by Reliance Industries that involves its local partner Paramount (formerly Viacom), Comcast, and James Murdoch's Lupa Systems have reportedly expressed interest in bidding.
From the benefits of IPL to its economy, we have carried out an extensive study of why IPL is so successful and mighty in terms of cash flow and money-making. Now, let us discuss how Content marketing is making its way to IPL and achieving a mammoth reach through various mediums.
How has IPL Changed the Face of Digital Marketing:
What is the most common thing during the IPL season, aside from the players?- Blue Colour? Glamour factor?
Advertisements are the solution to this situation.
IPL is one of the most popular platforms for marketing (both online and offline). With billboards, player jerseys, stumps, and grounds (Yes! They sew ad banners to the grass), the options to advertise in the IPL universe are endless. The emails bombard your inbox with discounted F&B vouchers during every IPL season. The goal of advertisers is clear. Everyone wants a slice of the pie IPL has at its disposal.
Can you guess the IPL's Advertising Expenditure?
In an interview, Sam Balsara, a media and advertising expert, provided insights into how IPL helped increase the AdEx (digital advertising expenditure) from 1,200 crores to 2,700 crores between 2015 and 2020. Even though the first pandemic wave struck last year, leading companies spent anywhere between Rs 300 crores to Rs 2700 crores on digital advertising.
The marketing sector's mutually-beneficial relationship with the IPL has thrived since the start; however, the league has benefited even more with the rise of digital marketing.
IPL advertising universe
Let's look at how IPL supports digital marketing.
The match timings on weekdays from 7:30-11 pm and double-headers (two matches a day) on weekends make IPL a perfect place to advertise digitally.
The tournament's emotional investment by supporters. The stronger the link to cricket, the more motive to endorse and buy a brand that the tournament/team supports.
Enough real estate to apply digital marketing tactics across TV, media platforms, and other communication channels during the IPL season.
Commercial advertising on social media or in cooperation with a player and subsequent social media marketing provides much-needed viewer attention to many products and brands.
I am pretty sure that after CRED's Dravid ad, do you think CRED could have profited from IPL even if the entire globe watched cricket if they hadn't done their advertising the way they did? No.
Let me give you some explanations based on facts!
The following brands used digital marketing during the Indian Premier League effectively. These brands effectively used digital marketing throughout IPL to up their revenues.
1. Cred
The only brand I am impressed with in the last season! Cred can think out of the box; they never went out of ideas!
CRED advertisement
Throughout the IPL season, digital marketing campaigns benefit firms from various industries, including banking and electronics. According to a Forbes report, Cred, last season's exclusive IPL associate, saw 24-lakh new customers in 2 months of the IPL. Their ads with Bappi Lahiri, Madhuri Dixit, Govinda, and Udit Narayan created new creative norms for advertising agencies: Excellent financial branding/marketing with creative talent.
2. Dream 11:
Rohit Sharma, Rishabh Pant, and Pandya brothers in Dream11 ad.
The fantasy league brand topped 100-million registered users during the tournament, thanks to the IPL's focused audience and Dream 11's regional language commercials and social media/digital marketing initiatives. Because virtual fantasy sports center on live athletic events, it was an excellent chance for Dream 11 to be available at many fan touchpoints. Pitch report, toss, awarding the 'Dream11 Game Changer of the Match' to the player with some of the most fantasy sports points, and the like were the moments where fans connected with the brand. The company handled around eight crore queries per minute during the tournament.
3. MPL – Mobile Esports Platform:
MPL advertisement
Last season, MPL hired Virat Kohli as its brand ambassador and sponsored KKR and RCB. The company's entire customer base and other key performance indicators (KPIs) increased. The IPL has proven to be so advantageous to MPL's ideas that if they'd had Rs 500 crore to invest in a year, they would choose to spend that on the 50 days of the IPL rather than spread it out throughout the year. During the IPL season, MPL focuses on both mobile and television marketing. Their brand campaign, which features ad flicks based on traditional Hindi proverbs, is doing well across all media in this IPL. The figures show how these brands use digital marketing to attain higher ROI during the IPL seasons. However, all collaborations that seek to thrive must always be a two-way road.
You can check down here if you want to see other advertisement campaigns!
In India, the IPL is nothing short of a big carnival. Brands frequently use this year to launch ads and attract attention.
We've seen huge businesses grow their brands, but what else can smaller brands be doing to differentiate themselves at this time? Who would not want to be seen during the IPL, after all?
1. A campaign based on tweets: Don't underplay the potential of the right hashtags!
Interact with celebrities on Twitter. Unusual and funny tweets are a great way to have your brand noticed during the IPL season. The 300-character limit makes it challenging to convey your brand's message. Remember, while not everyone can talk and influence others, a perfect influencer can!
2. Organising various competitions: One of the most successful strategies to promote brand awareness and improve value is holding a contest. Your business may attract a large audience if it generates better engagement. It's time to strengthen your brand's credibility through tailored messages. You may use social media networks to host polls or weekly challenge freebies to attract more visitors. Brainstorm with cricket fans on the most outstanding historical cricket moments to develop exciting contests.
3. User-generated content: In the era of digital media, engaging with consumers is critical. Thanks to their unique ideas, influencers are fantastic at engaging with consumers using user-generated content. You can, for instance, collaborate with influencers to create a range of consumer content. Suggest that they record the audience's reaction to specific events, like run-outs and massive sixes.
4. Launching new products and services: IPL enables marketers to appeal to a broad audience. Many Indian families watch IPL matches together, even if some are not sports lovers. The game is never off!
As a result, firms can use this opportunity to introduce new products or services to their target clients and build hype. They might accomplish the same thing by working with influencers and developing a value narrative to keep consumers interested.
Anyone with access to a media platform may now create digital campaigns that engage audiences. Anyone with a solid social media plan may effectively communicate their values and message to their target audience. Specific influencers have been using Instagram accounts to forward shifts in the marketing sphere through their influence.
Let's see how IPL is helpful in social media content marketing!
Firstly, let's see how IPL teams are entertaining the audience out of the ground! I am no big fan of RR and SRH, but their social media team! I love them. I am presenting you with some examples of their artistic brains.
1. SRH mocked RR on Twitter since the latter made a sly dig at David Warner's team, which had lost to the Royals the last time the two sides met.
Cancel the biryani order our friends can't handle the level of spice 🙂

P.S. : Daal baati should just do fine.#RRvSRH #KeepRising #OrangeArmy #Dream11IPL https://t.co/CLvZ1VhJkN

— SunRisers Hyderabad (@SunRisers) October 22, 2020
2. Natarajan, SRH pacer, has proven to be a death bowling expert, as his toe-crushers have unsettled the finest of batters, ball after ball. In the encounter against Delhi Capitals, his brilliance was again displayed. Natarajan bowled ten yorkers in two overs, limiting DC's chase significantly. SRH created a "Breaking Bad"-themed meme to encourage him.
'I'm the one who yorks' 🔥#OrangeArmy #KeepRising #Dream11IPL pic.twitter.com/J7slvHqE66

— SunRisers Hyderabad (@SunRisers) September 30, 2020
Other than IPL teams, netizens and other brands also benefit by showing their art on every social media platform for every small event of IPL matches or events. They use every opportunity, from Maxwell's party to Virat's performance, RR's team strength to MI's magical performance, Dhoni's retirement speculation, Rashid's slap shots, and Hardik's helicopter shot.
Here is an example of @theesmaarkhan's meme on Tewatiya's five sixes after a slow pace inning.
Tewatia starting his innings.
Tewatia after facing 20 balls.#KXIPvsRR pic.twitter.com/jAmejYWO5q

— ㅤ ㅤ ㅤ ㅤ ㅤ ㅤ ㅤ ㅤ ㅤ (@theesmaarkhan) September 27, 2020
As per Livemint, Facebook registered 10 million mentions of the league on its site during IPL 2020, with 74 percent of users in the 18-34 age range discussing it.
Twitter, known for kicking off trends, reported a 23-percent increase in cricket-season-related conversations in 2020 compared to the previous year. According to the microblogging network, 51% of fans use Twitter to read tweets about matches, players, and news stories; 25% aim to engage with Twitter posts during the game, while 21% plan to engage afterward. Around 31% intend to view videos, while 25% decide to follow their favourite sports teams.
When it comes to Content Marketing, IPL is a goldmine for businesses where people celebrate together like a festival. Emotions overflow in these tournaments.
You have seen that IPL is not just about cricket; there is more than meets the eye.