6 Reasons Why Customization Is the New Marketing Strategy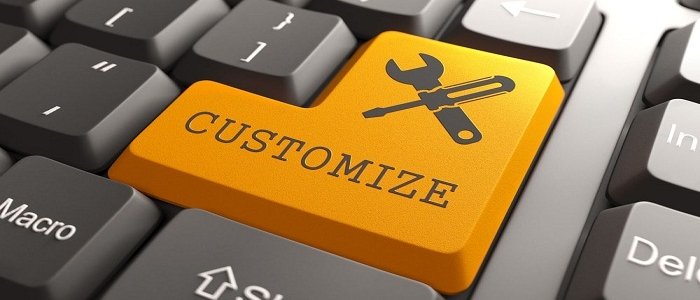 Gone are the days when customers run behind specific products or services for their need or luxury; today as many service providers and suppliers, where differentiation for choice has become very important, and a bit tough. That's where the new age 'Customization' weapon has come into play for businesses. Every Customer is unique with their set of demands or needs. To identify that uniqueness and cater to them is the recipe to win over the today's customers.
The customization is definitely the newest branding strategy as it plays an important role in increasing the efficiency, ensures maximum optimization of resources at hand, & cutting down unwarranted wastage.
1. Customize CRM System to Wow Your Customers
Every business unit even in the same industry will differ from one another, in various criteria, ranging from the size of the company to place, to business/delivery model. This ever-changing market environment with a different business unit, a different style of operation, and different set of needs will demand a unique solution. A common CRM for a global level MNC and for a localized e-commerce business will not work the same way. Customized CRM Software has been one of the most sought solutions in the market because CRM deals with the collection of correct and relevant data for business activity, which becomes the base for analysis and future action, it becomes imperative that CRM software works in synchronization with the business unit and caters to its specific demand.
Streamlining the process and making it available when you want it and then using it to convert the lead is going to offer an edge over others. Easier conversation, reduced the problem and increased sales is what you love to see, right? If you're wondering which CRM is the best? You could take a look here.
2. Customize Live Chat Platforms To Connect with the Audience 24×7
It is a well-known fact that handling the customers is no easy task. The live chat software is a tool that grants the businesses to create a better customer experience and for this they need the custom-made software, uniquely designed only for them. The live chat will not only help you to decrease your operating cost but also save time for employees per day.
Installing the live chat software for big companies is an obvious tool and the benefits are convincing in all ways. From extending the automation to your employees and customers to using multiple languages to deal with customers from all fronts, it helps you to connect to your audience emotionally and makes a conversation easier and short. Imagine a customer explaining his/her problem for 15 minutes straight. What did you get? Probably an annoyed customer vowing to never call up again. Not too good for the business.
3. Customize The Website To Carve A Niche In The Market
This is one of the primary things to do and unfortunately, not many businesses have taken it seriously. A good website is like the bright and tidy showroom that showcases your products/services and gives an ample idea about your well-being. How many of us would like to scroll the shabby looking, jargon-filled and illegible content? Not many.
A beautifully designed website with legible fonts, intelligent use of the keywords and one that is offering brief and convincing details on the products/services proves beneficial to the business. Check where your competitor is lacking and fill that lacuna with your intelligence. Personal or professional, both websites have the advantage of being recognized for their look and feel and yes, people love to read fresh and interesting content and look at testimonials and photos.
4. Customize Communication To Attain A Closer Relationship With Customers
Correct and apt communication is the backbone of any business activity and businesses recognizing business customers and their needs will alleviate credibility and imbibes the reliability factor.
A small sample survey showed, an advertising mail, with no personal touch, generally finds its place in spam folder, however, similar advertising mail, addressing the reader by his/her name, and with interactive content, induces the reader to click on the link to check out the offer. Nowadays the e-commerce company, after the consent, also verifies the cookies of the Internet browsing of customers.The site records the surf history and later offers based on the readers' interest, then analyzing Internet surfing history.
5. Remodel Business Processes / Tools to Suit the Needs of Mass
As discussed above every enterprise even if in similar industry varies from another enterprise / business unit, with its unique set of requirements and deliverables, hence to optimize the operation to maximize the return by efficient functioning, customizing processes of use.
It's wise to adopt. Rigidity has finished many businesses and will continue its job if the businesses today don't consider the changing atmosphere of doing the business. A customized business process offers you a chance to check the business process, check and make necessary changes wherever possible/necessary to fit the scenario. A customized business process is the need of time and moreover it gives a relie,f from the age-old business practices that have become obsolete.
6. Customize Business Cards to Create an Effective Recall Value
A business card is not only a graceful way to create a reminisce but a manifestation that you want to reach out to more people personally and professionally to expand your business. A customized business card with concrete messages , you use used for both personal and professional reasons and while it is a tangible way to connect with more audience, potential clients and advertise your business, it also lets you brand your products and services in a desirable way.
This article is originally published here: 
https://thenextscoop.com/customization-is-the-new-marketing-strategy/ 
I personally have customized so many t-shirts of which I would love to show my one: #UnproposedGuy