20 Gujarati Cuisines that make you go Yumm!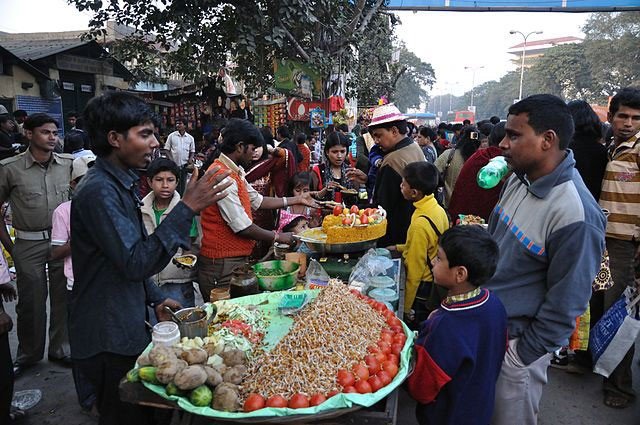 "Khavanu, farvanu, ne majja ni life" (eat, roam and have a fun life); this is the anthem of Gujaratis. With all the lovely places to explore and never ending list of food, people of Gujarat are among the most carefree cluster of India.
With love in their hearts and taste in their hands, these people know the intricacies of hospitality. The traditional "Gujarati Thal" is the proof of it. The platter has variety of farsaans (snacks) like dhokla, khaman, mathia, patra along with chutneys (condiments). There are chapatti, poori, bhakri which are types of homemade breads. This goes along with different sabjis which are the preparation of vegetables in typical spices with a pinch of sugar/jaggery added to it and daal which is preparation of pulses or beans with semi-liquid consistency. Kadhi-rice/Khichadi adds to the authenticity of the platter. However, a meal is never complete without dessert and so Gujarati Thal presents you with sweets such as Doodhpak, Shrikhand, Mohanthal or others.
Its not just the "Thal" though, if you are a food enthusiast, then Gujarat has much more in its plates to play with your taste buds.
Chorafali
More like chips in appearance, this crispy snack called Chorafali can be found on the streets of the state satisfying the cravings of locals. Garnished with chili powder and raw mango chutney, Chorafali used to be the festive snack prepared during Diwali. However due to its popularity and taste, it has found the place in the list of street foods.
Dhokla
Prepared from the fermented batter of rice and chickpeas, Dhokla is the love of Gujaratis. The steamed snack is available is variety of forms such as Sandwich Dhola or Khatta Dhokla and is garnished with curry leaves and mustard seeds. This snack can be eaten with coconut or coriander chutney.
Surti Locho
As the name suggests, Surti Locho is the famous farsaan of Surat city in Gujarat. This steamed preparation of mixture of ground lentils and rice is the love of all Surti people. Served with chutney, onion and sev, Surti Locho is mouth-wateringly good.
Khaman
The perfect blend of sweet and spicy flavor, Khaman is prepared by steaming the gram flour batter. Soft and spongy in texture, this snack can be considered as the USP of Gujarati food.
Ganthiya
This deep-fried snack is the regular companion of tea in Gujarati household. Also famous as Bhavnagari Ganthiya, this snack has non-spicy salty taste in general, but also comes in spicy and sweet variants.
Patra
The paste of gram flour mixed with spices is spread over the Colocasia leaves and rolled tightly. Small pieces are cut and deep fried to give heavenly taste of Patra. The snack is equally delicious and nutritious.
Muthia
Have it as tea-time snack, lunch-box menu or even as a meal, Muthiya with ketchup will leaves you with a feeling of fulfillment. Consider this as an Indian vegetarian sausage only with a lot more spices and flavors. Steamed, fried or baked to perfection, Muthiya is prepared from whole wheat flour and fenugreek leaves.
Khakra
Label it as most favorite time-pass food, if you may, Khakra goes deeper into the soul of Gujaratis. Crispy and crunchy, Khakra can be called hard and baked form of Indian bread, roti. Available is number flavours, such as cumin, fenugreek, ajwain, Khakra can be found in every household of Gujarat.
Mathia
If you know papad, then consider Mathiya as the Gujarati papad. Specially prepared during the time of Diwali, Mathiya is the twisted blend of spicy, salty and sweet taste. The crisp of this farsaan when sprinkled with chili powder gives the taste you will never forget.
Fafda-Jalebi
The fusion of snack and dessert never tasted better before. Fafda is the street food which is paired with green chilli and kadhi to quench the crunch craving. While Jalebi is a dessert dipped in sugar syrup and eaten warm. The combination of Fafda-Jalebi is just the right choice to have for your breakfast.
Handwa
This lip-smacking cuisine can be called a spicy cake. Prepared from the mixture of ground pulses, rice flour and grated bottle gourd, it is steamed and then tempered with oil, mustard & cumin seeds and asafoetida. Have it with garlic-coriander chutney or ketchup and savor the burst of flavors.
Chakri
Spiraling with the unique taste, Chakri is the authentic dry snack prepared usually during Diwali. This pretzel-like snack is crispy, yummy and equally tummy-filling.
Khandvi
A thin layered roll tempered with mustard & sesame seeds and seasoned with curry leaves & coriander, Khandvi is an evening snack. This delicious snack has unique texture to it and hence is a must try.
Thepla
Be it fenugreek leaves or bottle gourd, Gujaratis can add it into the preparation of Indian bread and give you Thepla. It is their travel buddy. If Gujaratis are travelling, then Thepla is always in their list of "things to be packed". Have it in dinner, lunch, breakfast or just with a cup of hot ginger tea, you will know its worth.
Undhiyu
One of the many things that Gujarat is famous for is the Kite Festival. What makes this festival even more amazing is the unique preparation of traditional vegetable curry called Undhiyu. It is the amalgamation of variety of vegetable topped with spices and dryfruits, cooked in an earthen pot. As mesmerizing as is its composition, is its taste.
Aamras
If you have a sweet tooth, then you cannot miss out on the deliciously juicy Aamras. The pulp of Indian mangoes is mixed with milk and sugar for its preparation. It is topped with some ghee and saffron to enhance the taste. Although Aamras is a seasonal dessert available only in summers, the taste leaves you craving for it round the year.
Ghughra
Prepared during the festivals in households, Ghughra is a half-moon shaped dessert stuffed with the blend of dry-fruits and sugar/jaggery. Each bite of Ghughra explodes in your mouth to give plethora of delight.
Sukhadi
Deep frying of wheat flour and jaggery into lots of ghee results into the royal sweet called Sukhadi. Often consumed during weddings and festivals, Sukhadi melts in your mouth as soon as you have a bite. A place especially famous for its Sukhadi is the temple called Mahudi near Ahmedabad.
Ghari
Another cuisine from Surat, Ghari is a dessert stuffed with sweet dry-fruit filling and completely covered in ghee on the outer layer. This dessert is high on calories, but again everyone is allowed to have a cheat day. So grab a Ghari and let your tongue swim into its sweetness.
Doodhpak
Made of all things good, Dhoodhpak is a semi-liquid dessert prepared from thickened milk. Topped with almonds, pistachios and saffron, this delicacy is signature dessert of Gujarat and is surely a must have.