What is the role of a professional SEO consultant?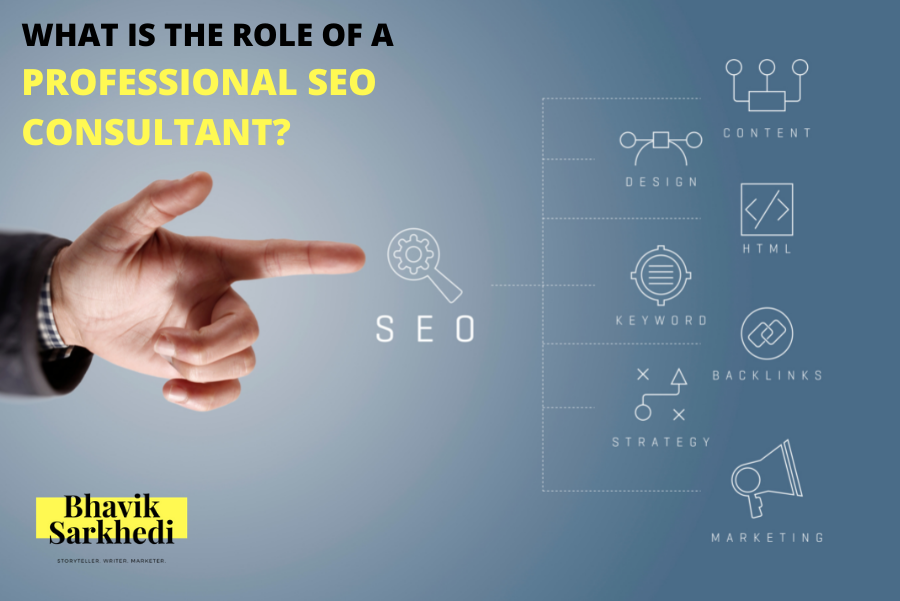 An SEO marketing consultant or search engine optimization consultant is someone who is an expert on search engine optimization and is paid by businesses and website owners to give them advice on how to get higher rankings, more targeted traffic, and ultimately more profits for their websites. An SEO and digital marketing consultant are different breeds. SEO is a niche area while a digital marketing consultant operates in a broader specialty of which SEO expertise is one aspect. Below, we have listed some of the top job responsibilities undertaken by an independent SEO consultant.
Web Page optimization

-An SEO consultant helps structure on page SEO mechanical elements such as integrating H tags, formatting, keyword phrases, keywords synonyms etc. to optimize a particular web page for higher ranking on search results. 

Keyword research and analysis

-This involves performing keyword analysis, choosing between long tailed keyword phrases and new potential keyword targets with lower competition and therefore higher profitability etc.

Keyword mapping

-An SEO consultant conducts keyword mapping which is basically the process of assigning relevant keywords to different pages on a website based on keyword research.  This is an aspect of on-page search engine optimization that allows search engines to note the page's relevancy based on a user's search. 

Respond to and rectify technical issues

– An SEO consultant handles all technical issues related to a website such as 404 Error, duplicate content, problems related to XML and HTML sitemap, broken links etc.

Comprehensive website audit

-An SEO consultant is in charge of identifying, testing and diagnosing website visibility issues. He/she is also responsible for checking Google indexing status, efficiency of HTML code, traffic statistics etc.

Copywriting

-An SEO consultant needs to be able to write effective headlines, metatags, paragraph subheadings and H tags to induce clicks.

Knowledge of Content Management Systems

– An SEO consultant needs to be aware of content management systems like WordPress, Hubspot, Buzzsumo, etc.

Awareness of new trends and advanced SEO techniques

– An SEO consultant needs to keep abreast of new marketing industry trends like white hat SEO best practices, Google algorithm updates like Panda, Penguin, etc. An SEO consultant also needs to know how to apply advanced techniques to optimize search engine visibility leading to Google knowledge panel visibility, featured snippets, etc.

Knowledge of SEO Software tools

-An SEO consultant needs to know how to interpret software data to make recommendations for content. He/she needs to have knowledge of tools like Moz Linkexplorer, SEMrush.com, Hootsuite etc.

Knowledge of creating URL maps

-An SEO consultant needs to have the skills needed to create a URL map which is a blueprint document for information architecture portraying the hierarchy of content on a website.

Paid Search Advertising

-An SEO consultant needs to be proficient in assessing need for paid search advertising, PPC, Adwords etc.

Offsite SEO and Link building

-An SEO consultant focused on organic growth and search results needs to have the knowledge of developing a diversified inbound link profile using a variety of white hat SEO link building strategies and techniques such as Blogger or Influencer Outreach.
Why Do You Need SEO Services?
You might be tempted to conduct your own search engine optimization instead of hiring a professional. If you're in a competitive business, though, it will be quite tough to succeed on your own. A real estate agency, for example, will wish to score well for terms like "real estate agent near me" or "top real estate agent."
However, several legal firms may be competing for visibility, and outdoing competitors without specialist expertise and experience can be extremely challenging.
Another factor to consider is the amount of time and skill set required to consistently and properly perform SEO. A effective SEO campaign necessitates a varied range of abilities, including:
Content creation
HTML
Design that is innovative
Strategy for the internet
Videography
UX/UI
They assist with the following:
SEO algorithms are constantly updated: Google keeps the intricacies of its SEO algorithm a closely guarded secret, but one thing is certain: it is altered on a frequent basis.
Better conversion rates: SEO-optimized websites load faster and are much easier to browse and navigate. They'll look great on practically any device, including smartphones and tablets.
Improve your Google ranking: Search engine optimization (SEO) should be at the core of your online business operations. SEO is the service that is in charge of improving your Google ranking and making you more visible on the internet.
Detailed reporting: Knowing whether or not your digital marketing initiatives are working is critical. You must determine whether you are still missing out on essential information. Professionals can give you with a comprehensive report.
You will receive high-quality content writing services: You may have heard the phrase "content is king." It's true; there's no point in having a flashy website if it's not backed up with good content.
It's your best chance of earning web exposure: For startup founders, SEO is the most effective visibility tool. You must be easy to locate online based on a user's keyword research linked to your business if you want to be seen as a leader in your sector.
The top companies providing the services of a SEO consultant in India are Write Right, Taletel, Dadofad and Estorytellers. These companies provide the services of an SEO consultant in Ahmadabad but are also available for assistance to companies pan India. An SEO consultant is an integral part of a digital marketing consulting team and indispensable for achieving data backed results for businesses big or small.
You may also like to read this Post:-
Rebuilding the SEO Strategy with Structured Data