Top Ghostwriting and Ebook Writing Services in India to Outsource Content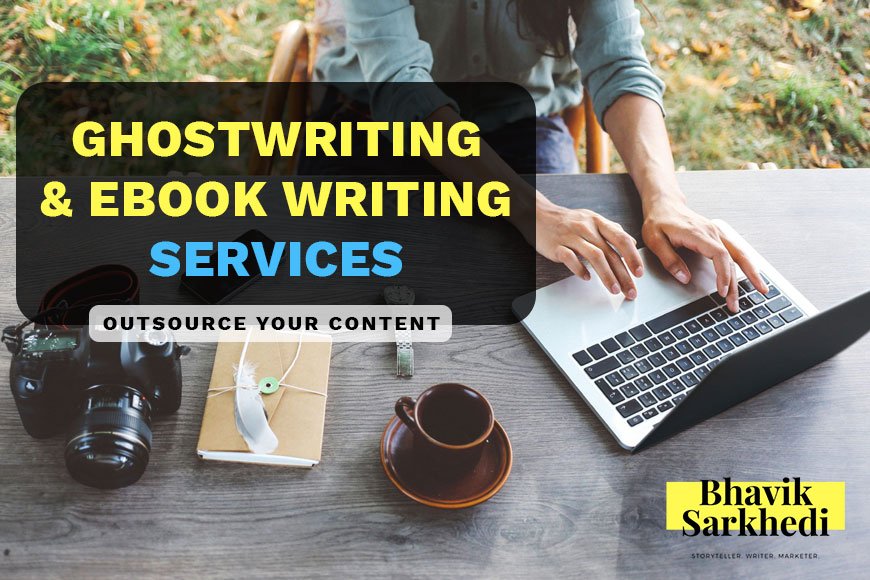 Writing is a piece of art which only few have mastered. Just like a potter would know how to shape the sand in order to give it a shape and form;  or a musician would know the notes that would sound pleasing to the ears;  or just like a painter knows the art of stroke, in the same way, a writer knows how to play with words, characters, elements in a manner that when you are reading through, you will find yourself engulfed in the beauty of words which are woven so thoroughly that it will end up igniting all sorts of emotions in you; you will feel angry when injustice would happen to a character, you will feel happy when a book will end on a happy note; you will connect with the characters of the book as if they are your own.  To be precise, you will be transported to a world of your own; a world which is filled with the imagination, creativity and beyond. And, that's the magic which words bring to you. The artist Boyzone in his work- Words has rightly said, 'It's only words; and words are all I have to take your heart away.'
However, with this great form of art comes another pertinent question, which is, 'Is there a way one can term a piece of a writing as a good writing or a bad one?!' Well, any art form is subjective in nature and so is the writing but just like the wise men have said it, 'A good piece of art can generate emotions within you, it will lift your spirits, it will make you live in the world where no one else has been and if the words can ignite that feeling in you, it means that the writer has done it's job successfully.'
Having said that, every other person in this world is a creative being. Humans have a wide ray of imagination and you must have often heard people cite, 'No idea is a bad idea.', which is out and out true in it's very existence. And, this is why, everyone is capable of thinking beyond their imagination. However, humans can be as creative as they wish to be but what sets them different and apart from each other are the skills of executing those ideas. This is where, all of us; each human being is made different from each other and each one comes with his own expertise.
Now, there are many people out there who have great stories to tell; greater than there will ever be. They are filled with the experiences; theirs and that of others to be shared with their fellow humans. However, the only thing they lack is the skill to communicate it. And, this is where the expertise of writers come in the place. In this blog, we will discuss how you can put your ideas out there in the world with the help of writers who will do all the work for you in your name. Yes, you heard that right! You will have your own 'Lord Chitragupta'. In today's world, we call them Ghost Writers. Let's first understand what is ghost writing, it's importance, how it is beneficial for you or your brand and the last but not the least, the agencies and the companies you can connect with to write your story for you by outsourcing the content to them. Let's first begin with what is the meaning of Ghostwriting?!
What is the meaning of Ghost Writing?
To begin with, the word- 'Ghost writing', if you will break down the word into two, it is made up of two words, which is, 'Ghost' and 'Writing'. Now, with the term- Ghost, we don't mean that you witness an apparition in a nebulous state, rather, here it is adjacent to the characteristics of a ghost which is, just like living beings, the presence of ghost is there, however, unlike the living creatures you can't see or in some cases, feel it.
In terms of writing, Ghost Writing, at it's fundamental level would be defined as something wherein a writer would put your ideas into words, give a shape to your imagination but just like a ghost, he will be not be seen behind his work or in other words, he will not be accredited for it.
However, what it doesn't need to be confused with are the social media statuses which writers write or freelance content writing which writer do for companies wherein they create website content, write various articles. Ghost Writing majorly pertains to the 'By Line' of the content, which is, to say, that the news articles wherein you see the name of the author on the article or the name of the author on a book are few instances wherein majorly Ghost Writing is involved. This is not to say that it doesn't involve the practice of Ghost Writing in other mediums but that is where usually the name of the author is also not written which is why we don't call it Ghost Writing.
Now, it might sound like a practice which is really an unjustifiable one for many of you, especially the ones who are involved in the art. But, this is where most of the people get Ghost Writing wrong. If you look at it from a job profile per se, it is to use the skills of a writer to put into the words the idea of a client which he is unable to arch in a better manner. This also comes with a handsome amount which is not usually paid to a writer in any other form of writing as it involves putting someone else's imagination and creativity, story, elements into a proper shape. This can be made possible only and after grasping that nitty-gritty of the brief of the client and then only putting it into words.
In addition to this, a Ghost Writer for a book would nearly make around five times the sum of money he or she charges for any other form of writing. In this regard, it becomes a balanced approach as it comes with the satisfaction for the writer as well as client. Given all these angles, we will also now discuss whether Ghost Writing is ethical in approach or not in depth and in order for that, let's look at the following:-
There are three categories for whom the question of 'Ethical' and 'Unethical' arises :-
Is it ethical for the reader who are consuming the content?
Is it ethical for the Ghost writer who is putting so much efforts into the work?
Is it ethical from the client's point of view?
Is it ethical for the reader who are consuming the Content?
Let's look at it from the one and simplistic point of view- 'A writer writes for his reader.' He wants to ensure that the words he drafts are such that it communicates well with the reader and reader, in turn, enjoys a piece of writing when it generates those emotions within him. Having said that, does it really affect a reader when he sees a certain name on the by- line of a news article or a blog? The answer is an outright NO. However, it would be unfair to say that no reader is concerned with who is the person behind the work, for, there are few readers who cares about the name, which is usually in case of a fiction book wherein if they like the manner of writing of an author, they tend to read more of their work. In such cases, the client, if wishes to get a book written for him and that book is received well by the audience, ideally, he should hire the same writer he had hired for his first book. In this manner, the idea of client remains with him and it becomes justified for the reader as well. Hence, in nutshell, it can be stated that in majority of the cases, a reader is not really bothered about the name written on the by- line, thereby, making it a normal affair for him.
Is it ethical for the Ghostwriter writer who is putting so much efforts into the work? 
With content spread like a cobweb over almost all the platforms, it has also created various kinds of job profiles for writers right. Currently, in the market, there are various job profiles for writers. To name a few, it ranges from a technical writer, content writer, SEO writer, SOP writers, Proof Readers and many more. In the lieu of the same, there is another term which has been introduced in the field of writing which is called- Ghost Writer. Just like any other job profile, Ghost writer is another one in the list. The responsibilities of a ghost writer include but are not limited to, following the brief of the client and after thoroughly discussing them with the client, he puts them into words. The reason why it is not unethical in nature for a Ghost Writer is because he is well aware of the responsibilities and he is stated beforehand as to whether his name will be a part of co-authoring or not in return of which he is paid as per his expertise. After he decides to go ahead with the plan, it is only then that both the parties work on the project; making it like any other business deal.
Is it ethical from the Client's Point Of View?
If one has to define the role of a client, you can most certainly say- 'A client is like a consumer who has visited a shop to buy the products of his requirement and in return, he pays the sum of value for that product.' In the same way, when a company or an entrepreneur or a budding writer for that matter wishes to avail service of content, he pays in return and at the same time, share his ideas of what he is envisioning, thereby, making it a business-like thing in nature and hence, this process devoid and distance itself of anything which can be termed as 'Unethical' in nature.
Now that we are aware of what is Ghostwriting, the next question that arises is- Who usually gets the ghostwriting done at the first place? Now, it would be a difficult one to answer because with everything changing at a rapid and fast pace, many people delegate the responsibility of writing content for them to others. However, if one has to specifically answer one category, it would be to say that many business executives prefer Ghost Writing for their requirements. In the list below, we will throw light upon those few categories who usually avail the services of Ghost Writing :-
Celebrities who want to write or express their opinions on varied subjects which is close to their hearts often find it difficult to manage their time in their busy schedule. They have so much to share to the world but unfortunately their time doesn't match their shoot timings. This is where they hire ghost writers who articulate their ideas and vision into words so that they can put forth what they wish to communicate to the audience without having to remove extra time. Ghost Writing especially is imperative for celebrities as they are public figure and one of the main sources of communicating with their audience and fans is through social media. Hence, they need to constantly keep their social handle updated. However, with great fan following comes great number of hours and since it becomes difficult for them to manage the timings, a ghost writer comes in handy to meet their requirements.
The second category of the clients in the list of those who most likely avail the services of a ghost writer would be one of the most common ones, which is, the category of technical buffs. There are engineers, computer scientists out there who maintain a blog of their own. Their main aim is to showcase how technology can change various things. However, as adept as they are with the technical knowledge, they lack in communicating those ideas to the world and this is where they prefer hiring a Ghost Writer who, through his expertise, can bring those ideas in a solid form and communicate it to a wider audience.
Thirdly, the business executives who lack time as well patience to put forth the vision of their enterprise often hire Ghost Writers to do the job for them. They already have a lot in their plate to tend to and hence, in such cases, they hire a Ghost Writer so that they can concentrate on their business more.
In addition to this, there are various people out there who wishes to publish a book on their name. They have great ideas, character sketch, elements, imagination but they lack the skills of giving it a form which is ardent in nature. This is why they hire a Ghost Writer and sometimes, they even give the credit of co-authoring to the ghost writer; depending upon the contract which has been signed between both the entities. However, in most of the cases, an author prefers to keep the name to himself over giving a credit of co-authoring.
Importance of Ghost Writing
Now that we have seen and studied the various angles of Ghost Writing, it is now the time to focus on the importance of Ghost Writing. It can be stated by something as simple as how in today's era, everything is just a tap away. Google is fondly termed- God by many people out there because whatever you ask for, it is served to you in the platter and the search engine answer all your questions, just like how God has the answer to everything in the world, right from something as miniscule as why we need oxygen to breathe or something as huge as the number of planets in the Big Bang.
It is because of this very reason that it has also become imperative for the leaders, for the CEO's and others to keep their companies updated with the current trends and at the same time, keep their consumers abreast of what they have to offer.
Notwithstanding the foregoing, what becomes more difficult is with so many changes taking place at the tip of consumer's fingers, managing time to actually write down what the company has to offer becomes a difficult task for them. Hence, in such a scenario, the importance of Ghost Writing comes in place.
Through Ghost Writing, a company can actually put forth their views and services they have to offer without having to write down each and everything. They can hire a professional to do it for them. All which is required from them is to give a brief of what they wish to communicate to their consumers and rest of it will be taken care of by the writers which also brings us to the next thing which we will discuss in this blog, which is, to come vis-à-vis with the pros of the Ghost Writing. Let's take a look at them :-
Expertise and Professionalism
Writers come with their expertise in different domains. Name a domain and a writer is most likely to be an expert in that field, right from finance, philosophy, biography, accounts, computers, technology and many others, a writer holds a considerable expertise in his field. This is why when you hire a Ghost Writer, you are giving the responsibility of your beloved idea, company's policy to a professional and not a newbie. A writer also understands who is going to be his target audience and on the basis of that, he frames the content accordingly, keeping the brief of the client and the platform in picture, thereby, offering professionalism and expertise in the work which he does.
No writer's Block
It goes without saying that you could also be good at writing but many times, you must be faced with the issue of creative blockage or in other words; a more colloquial term called- 'Writer's Block.' However, when you hire a Ghost Writer, you will not be faced with this issue as you both will be working on your project simultaneously and on the basis of your brief, the writer will work upon and adhere to, thereby, making it a proper one.
Deadlines and quick turnaround time
With so many things happening in your company or your business, it becomes difficult to concentrate on one end. This is where deadlines are usually missed. In order to avoid anything of the sort, hiring a ghost writer to take care of your website content or any other form of content wherein you want to keep communicating with your consumers and keep them abreast of what your company has to offer; the old and the new, hiring a Ghost Writer is the best possible form of solution for you.
Objectivity
Everyone tends to love what they work on. However, in that process, it leaves little to no room for improvement and hence, it is always good to have a third person opinion on your ideas. When you hire a Ghost Writer for your work, he or she can bounce off various ideas to you and also, provide feedback on how your idea can have certain additional and unique value by adding or subtracting few things. This form of to and fro communication helps the brand build more effectively amongst it's audience.
Prioritise
When you have someone else taking care of your business requirements, you can focus on your business itself. You will not have to invest your time and energy into coming up with various ways of addressing a topic or investing countless hours in research, you can totally free up those valuable working hours. You must be left with the question in your mind- How is it possible to achieve that? Well, here is the answer to that- You can most definitely do this by contracting out the work instead. And, in return, you will also get high quality work.
Now that we have discussed more or less everything about Ghost Writing and if you feel that you or your company also require Ghost Writing services, we have especially curated a list of Top Ghost Writing and e-book Writing services in India to outsource content.
Five companies you can connect with to meet your requirements.
Write Right
Taletel
Estorytellers
Kalam Kagaz
Bloggism
1. Write Right
One of the leading content writing agencies in the market, Write Right has been satisfying it's clients since it's inception. The owner of the company- Bhavik Sarkhedi is a writer himself and understands the nitty-gritty of the business thoroughly. Be it the current market trends, what works and what doesn't work for the company and your brand, Write Right provides a 360 degrees solution and feedback on and to the same. It is because of this very reason that they are rated as number one on the search engine- Google and has also been awarded as one of the best Content Writing Agency by the Glass Door, Trustpilot, Clutch and Good firms.
In terms of Ghost writing, they offer varied kinds of services to different clients- Be it book publishing, blog writing or a news article, Write Right offers all these varied services if you are looking for a ghost writer to do the work for you.
In order to contact them, you can pay a visit to their website and contact them through website itself. In case of a telephonic conversation, you can contact them over the phone number they have provided and they will tend to your requirements.
Apart from ghost writing services, the company also offers SEO writing, SOP writing, Blogs, Entertainment advertisements among others. They have been highly reviewed in a positive manner by their clients and you will be surprised to know that their brand value is such that they have retained their customers for the past six years, which is, the time when the company was shaped.
Apart from the above, here are few more reasons as to why you should opt for Write Right for your content needs :-
Experience
Being in the industry for more than six years now, Write Right would be considered as the epitome of the knowledge pertaining to what works and what doesn't work. With their experience, they make suggestions and offer various kinds of ways in which a story can be told. This stems from their experience of seeing the change in the content and this is why you should definitely encash on them for getting your book written or a blog or any other requirement for that matter.
High Quality
With their more than six years of experience, they also provide high quality content. Write Right strongly believes in providing high quality content so that it resonates with people. They understand the importance of quality in this ever-changing content medium and always offer original and error free content to their clients. This is why they are ranked number one.
Oragnised
It would be correct to say that Write Right is a really organised company. They have more than fifty writers on board with them and each writer is expertise in different departments and domains. Hence, your content which pertains to different domains will be taken care of by the writers and you will not have to face any trouble.
2. Taletel
Taletel is a subsidiary company of Write Right. Their mantra is simple and quite extraordinary in nature. They abide by the rule- 'Let us tell your tale in a different manner.' If you are looking for something which is exciting, new, brings freshness, and is away from monotony, Taletel is the one company you should, without fail, contact right away.
The writers at Taletel believes in not only playing with words to bring the product to the table, rather, they are so involved in their pursuit of bringing freshness and uniqueness to the content. The clients have had amazing experience working with the writers at Taletel. The clients have stated that how the writers at Taletel not only caters to the brief but they also offer suggestions to the client. This process, thereby, make the product more compelling and turn it attractive for the consumer.
Those who wish to avail Taletel's Ghost Writing services, here is what you need to know. They have been offering ghost writing services for quite some time now. Also, in addition to this, they offer SOP writing services, advertisements, rejected visa Sops among others. They have been rated highly by their clients and they also have some big brands in their kitty. Of the varied reasons you should opt for Taletel, here are few top ones which we have curated for you :-
Reliability
The first and foremost reason behind opting for the services of Taletel would be their Reliability quotient. As and while you are reading this, there are more than thousands of content writing services-based companies out there in the market. As great as it is for you to choose from various options, it becomes equally tedious and difficult to decide upon which one to opt for?! Hence, you need to be extra cautious when it comes to choosing the agency and company. This is where Taletel has been doing exceptionally well as they are ranked at one of the top agencies. One quick search on Google and you will find their reviews on various sites which also reflects how satisfied the customers have been with the services offered by Taletel and their pool of writers. You can check their reviews for yourself by clicking on the link below :-
Cost Effective
It goes without saying that hiring a Ghost Writer can burn a hole in your pocket. It is this very reason that many people think twice before hiring a ghost writer as the fee charged by the writer is quite a lot. However, the best thing about Taletel is that they customise the pricing as per your requirement and compared to market place, they are comparatively cheaper and also offer great discount on various occasions. So, all you need to do is keep a tab on them and check for yourself how they can customise the price plan for you as you could be new in the market and just starting off and in such a case, investing a lot of amount will also be difficult for you.
They will offer you the quotation free of cost and then you can decide for yourself. That sounds quite a nice and a win-win deal to me!
Industry Expertise
The writers at Taletel comes with an industry expertise. They are well-versed with the on- going trends in the market and are also aware of the various domains be it finance, literature, historical fiction and many others. Because of the expertise they bring to the table, they are the ones you should definitely adhere to for your needs and requirements of the company.
3. E-Storytellers
The third one in the list of Top Ghost Writing and e-book writing services in India to outsource content would be- E-Storytellers. Of the various reasons why you should blindly opt for E Storytellers; the two of the main ones would be- They believe that time is money and secondly, they are expertise in their field.
When I say, they believe that Time is Money, it means that how they understand that a client is not only investing his money in the project, rather, other than money, he is investing something more important, which is their precious time. By giving and assigning the briefs and making those calls to explain what kind of a brand identity he or she wants for his company, writers at E-Storytellers put in extra effort to thoroughly understand the concept and get into the skin of the project. Writers at E-storytellers, de facto, understand that how it is imperative for any brand that they not only write a good content but also create a brand value for the readers to remember them in future.
In addition to this, despite being quite new in the market, the writers at E-Storytellers are masters in their art of story- telling. Their team knows the nitty-gritty of Ghost Writing and have written many e-books for various clients. Few of those e-books are such that the client has again asked for the same writers who had written at first place for them, thereby, making this agency as one of it's kind, someone you can totally trust with your requirements.
4. Kalam Kagaz
To say that the companies do not pay for paid promotions would be saying that climate change doesn't exist and it is not for real! That would be a sheer lie to be engaged in any such sort of thing, won't it?  You may ask how one differentiate between what is real review and what is not?! In that case, you can check out the reviews on places like Quora and also check the ranking of the company. Why we are mentioning all these things here?! It is because Kalam Kagaz is one of those most reliable companies in the market wherein you will read the reviews of the company and how they are so professional in their approach. Around 80% of the reviews have been positive for this company by the people who have availed services from this company, thereby, making one of the major reasons why you should opt for Ghost Writing Services from them.
In addition to this, the writers at Kalam Kagaz offers varied style guide for you, that is, to say that the presentation of the art is such that one can't possibly forget the work done by the writers of Kalam Kagaz. For each brand, they understand the requirement is different and so is the style of every brand and this is why, Kalam Kagaz ensures that the client get something unique and at the same time, also gives the product which abides by the authenticity and style of the brand which they have created for so long.
5. Bloggism
Last but not the least, in the list of Top Ghost Writing and e-book writing services in India to outsource content, Bloggism comes next in the list. Though, they are quite new in the market but because of the quality of work which they provide to their clients, they have done more assignments than many other such agencies which are out there in the market for longer period of time than Bloggism. This is where they have created a mark for themselves by providing the kind of work that clients have put trust in them.
The freshness that they offer is something really few have mastered. Their exclusivity lies in their style and tone management. For the ghost writing services which Bloggism had offered so far, the client has specifically cited that how the writers at Bloggism not only put effort to understand their requirements, but also, formulated a plan in a manner that it resonated well with the customers. The client, in their review have mentioned that how after thoroughly discussing the brief with the writers at Bloggism, the writers formulated a content strategy which was in lieu with how the brands have also envisioned for themselves.
Apart from this, because they are new in the industry, they also offer great discounts to the clients so if you are someone who has just started off their business, contacting Bloggism would be the perfect deal for you to begin with.
Now that we have covered 360 degree aspects of Ghost Writing, you can go and contact any of these agencies to help you build your brand through their expertise so that, you and your brand, too can ignite those emotions in your customers or target audience.