Things to keep in mind while applying for abroad universities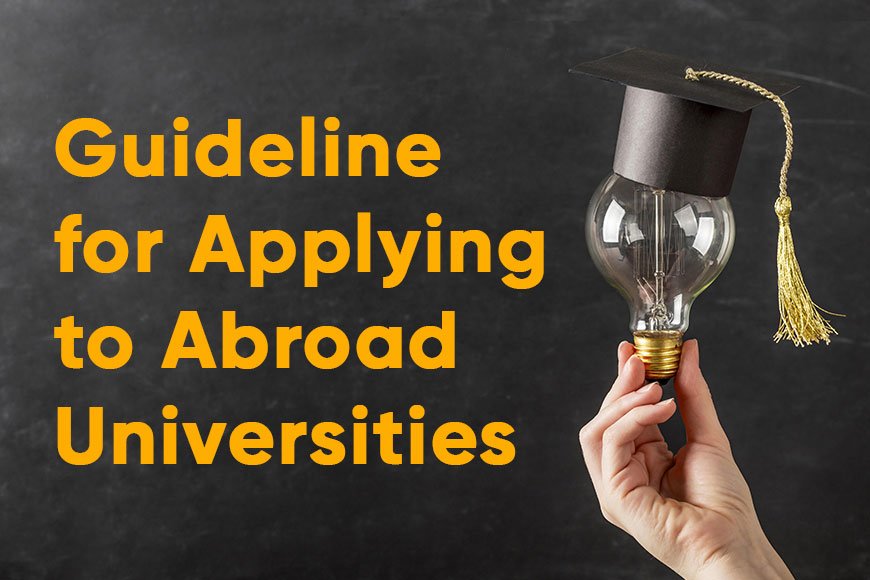 Guidelines to read when you are planning to apply for a course abroad. Use the checklist given below to ensure a hassle-free online admission process.
The phase of pre-submission of an application is quite a hassle. Wish it was an easy process and not so tedious? Well, don't worry, it can still be easy. We are listing a few tips below to help you feel sorted. Complete the online admission procedure with the steps given below.
Rule Number 1: Research the university's requirements and make a note of the documents needed for applying there.
The first thing to do is to go to the university's official website, find out the details of the course and the qualifications required to apply for the course. Once you confirm that you fit the criteria mentioned for the course, make a list of all the documents required to complete the application process.
The most important for the online application process are:
School and degree college certificates
IELTS & TOEFL certificates
School and degree college certificates
For an undergraduate course admission, one needs to submit class 10th and 12th certificates. Whereas for a master's course admission, degree or diploma course completion certificates need to be submitted.
Students who don't have their final year certificates when they are filling their application form can receive a conditional offer. They can submit a letter of enrolment and submit the final year certificates once they receive those.
A few educational institutes can ask for hard copies of the certificates. A student should deliver the hard copies of documents to the institution by courier. It is their responsibility to check all the necessary details like address and submission requirements. When the online submission is done, the hard copies can be delivered to the address mentioned by the school.
IELTS & TOEFL certificates
In case a student is a non-native English speaker, IELTS & TOEFL examination scores are required to check his proficiency in English.
The level of proficiency depends from country to country. Some countries accept students with a mediocre score. Whereas, some countries require a higher level of English proficiency. So, if a student has decided to apply internationally, it is highly recommended that he prepares for these English proficiency examinations thoroughly.
Rule Number 2: Scan the required documents and save them on a computer desktop
To make an online submission, soft copies of required documents need to be attached to your application form.
Firstly, bring out all the physical copies of documents required for the admission process. Create soft copies of all the documents using a scanner.
Then create a new folder on the computer desktop. Save all the scanned copies there.
Word of Caution
The scanned documents must be extremely clear. Authorities can reject blurred or unclear copies since they review several applications on the same day. So obviously, they would not have time to entertain such technical glitches. Ensure that only high-quality scanned documents are submitted.
A common error made while submitting online documents is that applicants attach the wrong file. To avoid this common and silly mistake, you can rename the documents as 1,2,3,4, and so on. So, when you are attaching a file, you can keep a track of the chronological numbers and don't make the mistake of attaching the incorrect files.
Rule Number 3: Get your SOP and LOR ready
To bolster your admission chances, submitting an SOP (Statement of Purpose) or LORs (Letter of Recommendation) comes in handy.
Since the selection process is competitive, writing a personalized SOP gives you an advantage over other candidates who are applying. An SOP is a story about you. Your strengths and abilities. Your personal goals and achievements. An SOP essay aims to explain your profile more effectively while engaging the readers with good storytelling about you.
LORs, also known as Letter of Recommendation, is usually required for a master's course. The course can ask for LORs written by a college professor or by previous workplace authorities in case you were employed. The purpose of LOR is to give an insight into your capabilities and personality. Previous in-charges speak about the student's aptitude and personal qualities in the letter.
Rule Number 4: Get your Passport ready as soon as possible
Every international school asks for a passport copy. It is the most important document required to apply for a course abroad, no matter where the student is applying. Passports must be self-attested with the candidate's signature.
Rule Number 5: Visa or student permits
To apply to a foreign educational institution, Visa or student permit needs to be submitted for verification purposes. Make it a point to get them sorted in advance while applying for an international study program.
Rule Number 6: Resume
Some courses ask for a resume along with other documents. Get an excellent resume ready for this purpose. The resume is absolutely necessary if a student was previously employed. Details on role
and responsibility should be mentioned in the resume very well. Extra-curricular participation, academic projects, and overall accomplishments have to be described in the resume.
Rule Number 7: Portfolio
In case a student is applying for a creative course like film-making, designing, or writing, a portfolio is often required. The meaning of a portfolio is the collection of your previous work. The admission commission checks the work to decide if you have the right attitude and skills for the course applied. It is a method to evaluate your candidature with previous work samples.
Rule Number 8: Review the whole application before final submit
Check all the scanned copies thoroughly.
See if everything that is needed is there in the special folder created as per the word of caution in rule number two. Once again check the clarity of all certificates, the passport copy, visa or student permit, SOP, and the letter of recommendation.
Weed out any scope for errors. Go through the documents submitted in the application form thoroughly.
Make sure no duplicate or wrong copies are attached.
Review the whole application before you make the final submit. Ensure 100% authentic and correct documents are attached.
With these eight golden rules, you are all set to go ahead with the admission process. Our final word is to stay organized, well aware of requirements, and submit the documents properly. Going step by step will simplify the process and avoid any scope for silly mistakes. Follow our easy guidelines mentioned here to feel confident and have a hassle-free submission process.
All the best!
You may also like to read this Post:-
5 cost-effective companies for your SOP Writing- Increase chances of studying abroad