The Future of Content Marketing: Why Your Business Needs It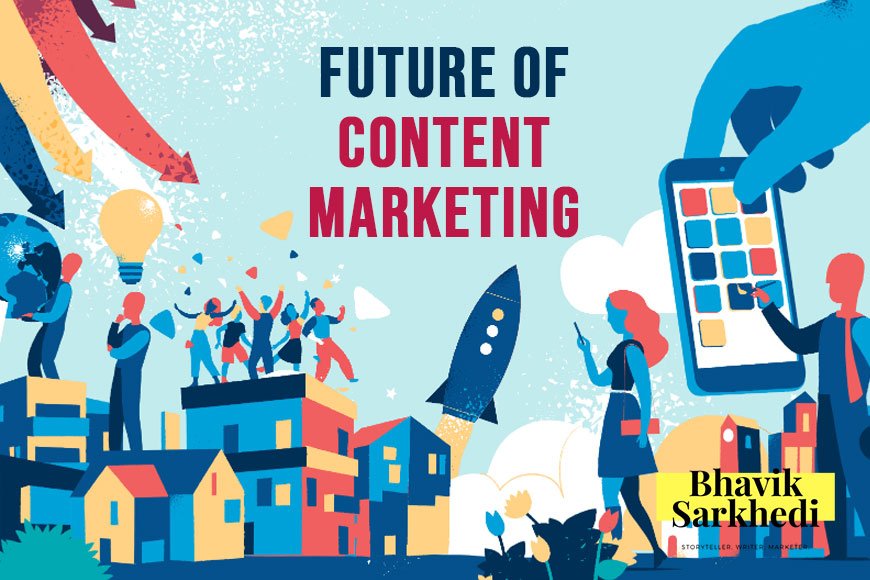 Content marketing has been around since the early 2000s, but it wasn't until recently that it truly began to flourish as we know it today.
Thanks to social media, content has become one of the most popular strategies businesses use to grow their audience.
They market their products and services to the audience in the most effective way possible. They provide them with something valuable to read or watch.
Content marketing basics
Strategically Content marketing is mainly focuses on creating content that is audience centric in terms of value add—compelling the customers to take action in the interest of the business. While you may hear marketers referring to content concerning print advertising or other traditional marketing activities like direct mail or trade shows, we're talking about something different here. Our definition of content refers not just to written words but also images, videos, audio recordings and more. All of us agree that when it is concerned with content marketing, we cannot adopt a one size fits all approach. What works for one company will likely fail for another because so many variables are at play. The only way to know what will work best for your business is by testing out different types of content and measuring their impact on metrics that matter most (like sales).
Every business has its unique story – so why shouldn't your website tell it?
Content marketing as a business strategy
Content marketing is a vital aspect of any business strategy that focuses on building a personal relationship with your audience and getting them to trust your brand. By focusing on quality content and high-quality visuals, you'll establish a connection with your target customers through visual content such as infographics and case studies. You can get interested in your products or services by producing engaging content that helps educate users about a specific topic. It creates opportunities for you to guide potential customers toward becoming actual customers. You can also use storytelling in your marketing campaigns by creating an exciting narrative that evokes feelings and makes readers care about your product. Good stories evoke empathy, creating emotional connections between consumers and brands, making it more likely for consumers to respond positively to advertising from brands they like.
The importance of content marketing has become increasingly apparent in recent years as internet usage has grown significantly. According to Google, 72 per cent of adults worldwide go online every day, and nearly half have watched videos online recently (ComScore). These statistics make it evident that users are spending more time looking at websites and spending less time watching television commercials. Brands have begun shifting their strategies accordingly, now emphasising search engine optimization (SEO) tactics rather than traditional paid advertisements—as reflected by growing shares of digital ad revenue across all major industry sectors (Media Post). In today's market, businesses need a stellar product and well-written copy.
Content marketing helps create brand awareness.
Another significant benefit of content marketing is that it helps create brand awareness. As companies give away high-quality information, they can stand out from their competitors and generate new leads. Studies show that 80% of B2B buyers consult at least one piece of content before making a purchase decision. The reason for this trend is simple—content marketing is effective. 82% say they feel positive about a brand after reading its content, while 85% feel more inclined to buy. For example, I could talk about how a great content marketing strategy helped increase my business website traffic by over 1 million visitors per month. I could also write about how you can use content marketing to attract thousands of new visitors daily without spending much money on advertising. And lastly, I could write an overview of why marketers are moving toward creating precious pieces of information instead of pushing sales messages to convince people they need what you have to offer.
Content marketing helps you gain traffic.
Content marketing is an absolute must if you want to get more traffic to your website. This relatively new marketing tactic allows you to help consumers by providing them with free and valuable information about your products or services. And in return, you gain traffic by ranking higher on search engines for these terms. The best part? You don't have to sell anyone anything! Your potential customers come to you and ask for what they need. When done correctly, content marketing helps you rank high in search engine results—giving you a better chance of being found online. Plus, it can be just as effective as any other type of advertising when reaching large audiences that might not know about your business otherwise.
Content marketing helps you build trust.
Sometimes you want people to trust you—like when asking customers to spend money on your product. But, chances are, they're not just going to charge you because you exist (if they did, sales would be easier). You need to build trust with content marketing. People guard up when it comes to brands; if they find content marketing too pushy or inauthentic, they'll block it out completely—which means no profit for you. Many businesses use content marketing today: It helps them earn trust and establish themselves as a brand worth spending money on. So, don't skip over these tactics!
Why do businesses need great content marketers?
Businesses need content marketers because content creates a fantastic customer experience, generates leads, and increases sales. Great content tells people about your products or services and offers solutions to their problems. A great piece of content can solve issues with your product or service, help customers feel understood, and solve their problems without forcing them to buy something they don't need. Well-written content often acts as an educational resource on various topics.
Challenges in the field of content marketing
The field of content marketing has seen an impressive evolution over the past decade. The industry is expected to continue growing in the years to come and become a critical marketing channel for a large number of businesses all around the world. However, it will also face some of its biggest challenges in 2019, 2020 and beyond. – Competition between brands and companies. As more and more brands realize how powerful content marketing can be, competition between companies trying to get their hands on great quality content from professional writers will grow. Your business's access to high-quality articles at reasonable prices might prove difficult. There is so much information available in the digital age that sometimes it's hard to find new and exciting material to keep a site relevant. A well-executed content strategy will help.
How can we hire good content marketers?
Great content marketers need to be able to write well, create and curate visual content, understand user psychology and behaviour, know how search engine optimization works, understand different social networks, and have a knack for producing viral content. These skills aren't easy to find in one person; some companies hire specialized teams to handle each aspect, while others rely on employees that can help with more than one function.
What does it take to become a great content marketer?: If you want to get into content marketing, start by reading up on best practices and how-to guides to get an idea of what you should learn. From there, read up on marketing strategy and research trends within your industry so you can position yourself as someone who knows what they're talking about.
Why content marketing is the future of business
Creating high-quality content for your audience and social media is an investment in the future of your business. Not only will you benefit from direct sales and increased traffic, but you'll also enhance brand awareness by building a positive reputation. By creating your audience's trust, you can build relationships that are based on honest communication and mutual respect. The future of content marketing is more than just excellent writing skills—it's about how businesses engage customers with valuable information that helps consumers make decisions about their lives and purchases. The future of content marketing is personalized, which takes advantage of personal data to help people find what they're looking for with as little effort as possible.
Inconclusion
Having relevant new content posted regularly not only allows you to attract new followers by having new things to say but also gives existing audiences something new to read when they return to your site or social media accounts. With even basic SEO (search engine optimization) techniques, popular articles have a higher chance of getting traffic from search engines. Better yet, when people share articles across different platforms like Facebook and Twitter, those links are counted by search engines, making it easy for content to rank higher and drive more targeted visitors back to your website.
If you create high-quality posts and deliver them consistently, you'll notice an increase in organic search engine results over time! And being easily found on Google is extremely important nowadays because 69% of users never go past page two!