Life-A Balancing Act/Soup for the Soul
Life is a balancing act/Soup for the Soul
 Life is another name of balance/Soup for the Soul! Though things get dis-balanced at times but eventually, all we gotta do is get it back to its balancing form.
Things come and go and the life loses its balance every now and then but then again everything is meant to fall in place and it gets balanced again.
Nothing matters if we keep on believing that one day or another, we'll be expert in this act of balancing! We'll be there in the zone of being able to handle life and not letting it scatter away. It needs just a little focus and determination to keep it on the right track because the time we lose the right track, things will just go out of hand and we'll just lose the balance!
 soupforthesoul India
So keep on balancing! Keep on learning! At the end you'll be the best leader of your own!

BE flexible!
Life is all about change! We are so prone to changes that it's getting done every second. Everything around is changing so much, every now and then.
Things just don't stay stable and it all just changes as soon as we try adapting to the changes. And the change can't be ignored. One should always be flexible by the heart and mind that a change should never bring that line of tension on your forehead. A flexible person is always happier because no change would ever effect him and a flexible mind is a productive one too.
To live a happy and thoughtful life, one should be flexible because if we waste all our time coping with the change and not accepting it then we'll likely to lose a lot. We'll not get time to think productive or work productive!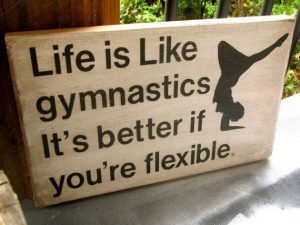 So at the back of your mind, keep that ease built up because life can throw a change anytime all you need to do is be ready to catch it!
 soupforthesoul India