How and Why Should You Outsource Content Writing for Your Business?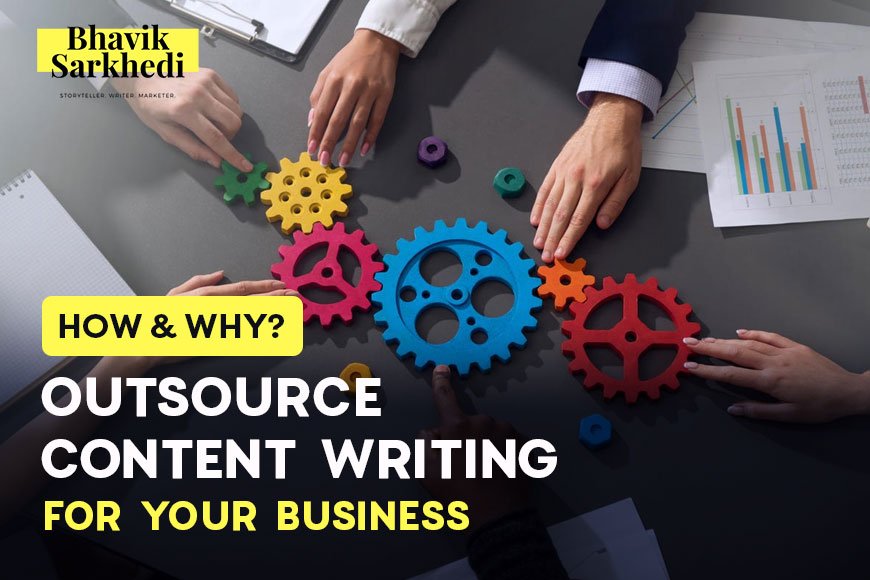 Looking forward to the best way to ace the corporate race? One magical word is enough to solve all your problems that is outsourcing. You might be wondering why your business should outsource content writing to expert writers. If yes, here is a short take to explain the same! Content is the key to success. Whether you run a small business or a big startup, it's crucial you have quality content to not only capture your audience but to keep them engaged as well. A lot of businesses go for outsourcing their content because they dread the idea of sitting at the computer drowning in excessive work and juggling deadlines with tight limitations.
In content marketing, quality of the content is the core of it. Having a clearly defined content marketing strategy is essential for success. But it doesn't stop at just your own website. If you want your company to be successful, you would need to create a buzz around the internet. Blogs are the best way to do this and being a popular blog or website can make things much easier for you and your company in future. With so much information available on the web and content marketing being in vogue, it is necessary to hire a writer to write content for your website. Experienced writers can offer you so many things that you can get difficult to manage on own. Outsourcing content writing can and will improve the quality of your marketing strategy. In this article, we will discuss how outsourcing content can take your business to the next level, thereby assisting in driving up conversion rates and profits as a whole!
Are you still looking to the best way to outsource content writing? The method unveiled below is going to show how it will help you communicate your message in a better way, leaving a lasting impression on your audience and making you more successful.
Why should you outsource Content Writing needs of your business?
With the advent of internet and social media, there's no stopping to the information exchange happening in today's world. The channels of communication are so many that sometimes a single person can't handle all that information exchange. It is almost certain that one will get overwhelmed if they try to handle it all on their own. "Outsourcing" has gained popularity these days among individuals, small businesses and corporations alike. Whether you're looking to save some money or find a great deal of value in what you want to accomplish, outsourcing's benefits will help reach even your wildest dreams. There are obvious reasons why anyone outsources content writing for their business. If you're wondering what are those benefits, have a look ahead:
1. Increased opportunity to focus on planning and other business-related tasks
Business requires everything well in time. Among the most important reasons is the value of having time for the other major aspects of business, the core obligations around which the corporate revolves. Frequent blog entry analysis, composing, and publication may be a comprehensive work for its own sake. Although it may appear to be a simpler or less expensive alternative to create content independently, this is generally a poor marketing plan. Commit towards the company operations wherein you excel and delegate content creation to a specialist. This will not only save your time but, also, help produce the finest quality work.
2. Prompt implementation of marketing approach and swift achievement of objectives
Outsourcing content not only assures a continuous source of information to post, but you're also gaining advertising expertise and capabilities which may be far outside of your stake. The rule of thumb is the efforts you put in your content, the more leads and results it can generate. Driving the world today, advertising includes content as a core component and hence, can furnish you with the best marketing plan for your company. Collaborating with a professional writer or agency ensure that content brand marketing matches to the organizational objectives. A content marketing company may allow you to identify your goals for digital strategy and provide the knowledge and techniques to assist you get over there. Furthermore, they will ensure that everything aligns together and work out the best!
3. Better than recruiting a full time writer
If you look for cost efficiency together with results, hiring a content agency certainly evolves out as a clear winner. Hiring a professional writer on full time basis will cost you thousands of bucks every month, even when you don't need content for a period the salary tolls straight! But, when it comes to outsourcing content you just need to pay whenever you need blog content or a social media post, hence, there is no permanent obligation for payment. Henceforth, outsourcing proves to be a much effective way.
4. You will be able to target the right audience
Expert writers might market the released post according to their blog and connections whenever you outsource your writing to them. That implies your products will approach up an entire new fan base that may not have known about the business previously. Hence, widening the base of readers will generate more leads too.
5. You can gain from new concepts and other perspectives
You must have apparently got some unique experiences to share and would like to express the personal standpoint in the work, and hence, this has the best say.  Nevertheless, introducing young faces and insights using bloggers who can articulate things in ways you may not have thought can be incredibly valuable to your eightfold advertising strategy.
These are some of the main reasons why outsourcing content can prove to be a wonder wrapped in joy. Hence, outsourcing content not only drives sales but, at the same time elevates the curiosity among potential audience to avail the services or products offered by your business house.
How to outsource content writing needs of your business?
You might be concerned about outsourcing your content writing to a professional content writer, but if you do it the right way and follow some tips, you can avoid any problems. Preparation is crucial to effective content development offshoring. Prior to actually assigning such responsibilities, you should identify what you really want to accomplish, the assets you possess, and their ideal utilization. Such approach entails far more than simply purchasing content from external agencies. Here's how you can outsource content writing to a professional writer with good benefits and effects in the long term.
1. Formulation of a guided content plan
The initial stage in any content strategy is to develop a strategic approach. It entails determining individual begins with determining how to address them. You should also evaluate existing infrastructure and overall competencies. One could then decide what portions of the task must be delegated. Defining objectives explicitly is the first step towards success. It could be used to connect with new clients, enhance revenue, or raise brand exposure. All of these objectives might necessitate a separate number of objectives. To increase conversions, you could utilize questionnaires or newsletters to populate the network. Establishing concrete objectives can assist you in planning the activities which might lead company promotional strategies.
The focused framework must be created with the clear aim. Establish the viewer's description, providing a full assessment of their requirements and perceptions.
2. Estimate the ROI
After you've designed a compelling content plan, you'll need to assess your company's internal capabilities. It will help decide what duties to delegate. You most likely now have specialists in the workforce, nevertheless, they could struggle to produce articles or create new material. Their expertise and abilities could indeed be spent on improving use with other responsibilities.
So, it can be explicitly viewed that higher the investment in the profile more the return it will generate.
3. Generate a checklist of fresh concepts.
Create a custom plan based on subjects or buzzwords. Conduct deeper research of all the crucial aspects. Determine the importance of these subjects depending on company objectives and platforms. Investigate everything business rivals are using and strive to prepare better. Creating a list which guides the path of what new and evolving concepts can be added also bloom the market to a greater extent.
4. Make a content schedule
The regularity of content production, subjects, forms, and platforms should all be specified in the promotional campaign. One must create a schedule using this material. The particular goals of every action must preferably be shown. Establishing a well-formed timetable for all the articles that are to be uploaded in a given frame of time should be written and things ought to be managed accordingly. Drafts should be garnered some time before the publishing deadline in order to get complete details and solve the loopholes accordingly.
5. Establish a spending plan
Implementing a compelling content plan in an initiative would help to determine exactly what type of articles you require. Assess the value of your investment depending on the quality and functionality. Hence, it will be the foundation for choosing the best writing services available in the industry. It should be taken into consideration that the standard and in-depth research demands more attention, higher research and henceforth, require a considerable budget in hand. A complete layout of the spending plan is a must to focus on feature.
6. Undertake a comprehensive and informative presentation
The effort you invest in creating a thorough and precise brief discussion would be repaid in the form of high-quality material. Make a list of the overall objectives, target demographics, and functional needs. All information and guidelines that you require to be followed and executed by the writer or agency must be clearly specified in the brief. It will not only elevate the quality of content but at the same time reduce the time spent on reworking and editing.
One should clearly include the tone, structure and inclusions of the content to procure the wished write-ups. This is a crucial step on the ladder to success.
7. Observe the outcomes 
The content plan must include performance indicators. Using technologies assess the effectiveness of the written articles. Ensure your marketing objectives are measured in a relevant way. Resist research that is too broad or too specific, smaller goals eventual lay a path to bigger and brighter success. Analyzing the set benchmarks and achieving them is the best policy one can adopt to lay down the future plan of undertaking.
Therefore, by following the points mentioned earlier, one can steadily pace to reach the pinnacle of triumph through effective and efficient outsourcing strategies. This one-shot has innumerable upsides for the business.
The key takeaway
If you are thinking of outsourcing content writing, it's now or never. Content marketing is one of the most effective and affordable ways to market your business. The importance and benefits of outsourcing content writing have already been discussed at length. Regardless of whether you have a small business, a start-up company, or an established multinational corporation, creating quality and high-value content can improve, strengthen and increase your brand recognition in the global space. Hence, outsourcing proves to be an asset if used appropriately, and it projects forth accurate action plans and strategic points to consider together with achieving success.
So, what are you waiting for? This is your time to get the skates on, attract customers, mushroom brand value, and elevate revenues!