Want Some Refreshment? Accounts to follow on Instagram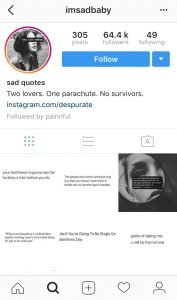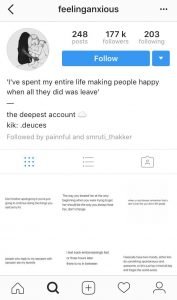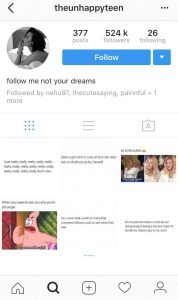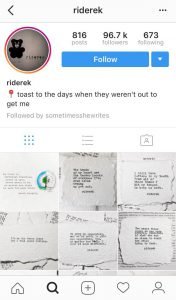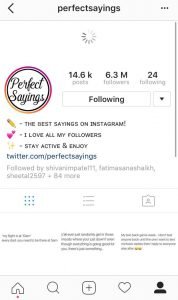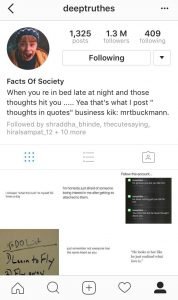 deeptruthes – Type of thoughts hit you about the truthfulness of life when you are in bed late at night or in broad daylight and those thoughts you will find on this page.
painnful – Discouraging Quotes and Sayings about things happen to us in daily life. 
thebettermanproject – Epic motivational and inspirational quotes account for betterment of future. 
sweetzthoughts – Quotes about life, love, relationships.
momentsintimes – Emphasizingabout the crucial time or circumstances.
commonsadboy – About typical boy experiencing life stuff.
scopesdaily- Posting daily horoscopes you can relate to.
sadtweetz- It's about heartbreaks, we go through keeping desires.
recoverysayings- They post quotes that describe life, and we can relate to them.
sadquotepage- Its quotes that explains people minds.
perfectsayings- quotes about existence that makes perfect sense.
happihabits- It's Dr Rebecca Ray a clinical Psychologist giving examples about happy habits.
w0rd_p0rn- Obliging about obsessive interest in words.
riderek- literary compositionthatresembling about society.
thetruthfulword- It is about Changing the perception we Look at Things.
mindfulmft- Vienna Pharaon is a Licensed Marriage & Family Therapist in NYCpostions about relaionships.
theunhappyteen- its page about life regrets.
thebehappyproject- It is about selflove, daily dose of positivity for living life happily.
imisshiiim- It's about girl whose heart has been broken by the guy she never ever dated.
horoscopemeanings- Zodiac Signs with meanings and its compatibiliy.
stormquotes – Sayings about broken and incomplete dreams.
feelinganxious- It's about the nervousness or unease about something with an uncertain outcome.
s- The inner offenisive thoughts of female mind intended for mature readers.
phrase- A lady's imagination about admiration to love, relationship and friends. 
feelingdistant– it's about the thing running in the mind of A girl who fears commitment. 
Iamsadbaby – Sad quotes Two lovers trying to fall back together. 
Avoidingher – It is about the guy attempting to clarify why heis keep away from love.
Sadquotingblog- Quotes that will make you rethink everything about everything.
Feelmyheartbeat- Superb quotes conveying about everything the writer feels.
Selfish- Writer thoughts of himself as an lacking consideration for other individuals; concerned mainly with one's very own benefit or delight. 
Sighsadface- The very intense sad thoughts one can have about anything.
Imokaybby- Does it really get better or do we get used to it? Want to know, follow this page.