Career Guide: Tips to Grow as a Freelance Content writer in the Market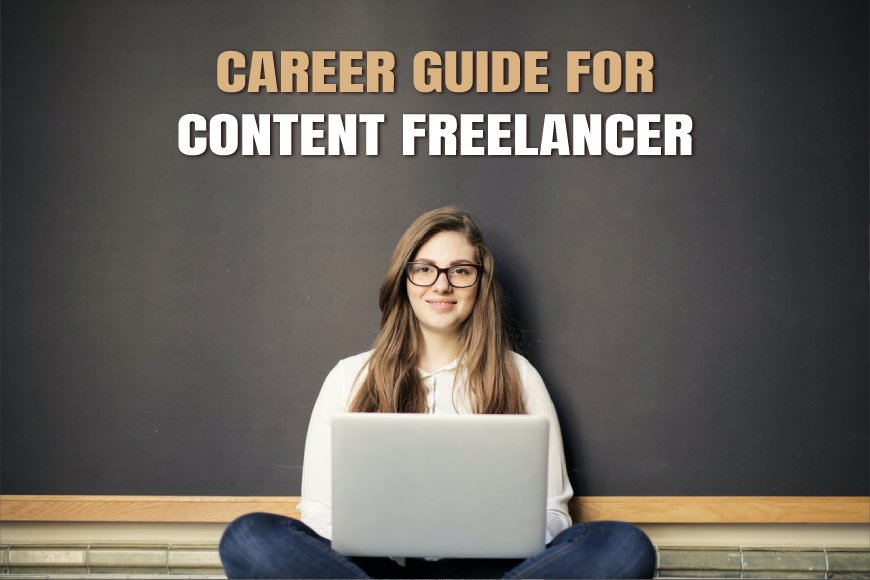 Creativity is like a paint brush, whenever picked up only leaves the beauty of colors. Words are the colors that a writer paints everyday either by writing or by thinking. India's age old concept of a workaholic atmosphere is taking a step backward and working from home has become the new normal.
While the offices are finding space in the house, startups tend to look for freelancers as it involves minimum employee management. Freelancers are also taking themselves ahead in the market. Working on your own conditions is the satisfaction everyone needs. Among a lot of opportunities to be your own boss, freelance content writing is one of them.
A report by Payoneer states that during the first and second quarter of 2020, 46% of new freelancers entered the market including content writers. The workforce is increasing but is your skill and reach as a writer taking the pace to stand the competition?
To be good writer you need passion for reading, but to be a great marketer and freelancer you need to build image and connection in the market. Why don't you let the writer in you weave words while we tell you how to get ahead with content writing career in India.
1. Your blog is your identity
A true writer will never find themselves idol, they could either be writing or thinking about writing. Starting a blog to pen your thoughts can be the most authentic way to keep your creative hustle going. Moreover, it goes one step beyond to defining the niche of your topics. The market is filled with numerous websites if you wish to build the pioneer of your blog site.
Having a recognized image in the market will help you attract project from desired clients and making your pitch stronger. As a beginner, content writing in India pays well from anything between 10000/month to 50000/month. This scale goes up if you have 4-5 years of experience and a good network of clients.
2. Getting ahead on freelance websites
It takes a lot of time and energy to build and establish as a great blogger, we understand. However, if you have just stepped into the water, how about finding gigs on some of the freelance websites? Yes, the market is filled with platform like Upwork, People per hour, Guru, Fiverr, and many more. These platforms are a host for all the writers looking for content writing career. While these websites charge a percentage of commission, it will also become an authentic stage for you to procure genuine clients.
3. Selling your content is the key;
A true writer knows to weave their thoughts beautifully and also sell them well. The most vital step for any freelancer is to procure projects is to have a great pitch for the clients. While the above to points are added bonus to your presentation, you can also start fresh. A writer can prove their worth best by words, submit your portfolio to the content or maybe write a sample piece for them. It is only after your first project that you will be able to establish a reputation as a writer in the market.
4. Make some noise on Social media
Social media is no more a platform just for entertainment, rather it has become an identity for everyone. From Facebook, Instagram, to LinkedIn all these platforms can be leveraged to update your profile and showcase you as a freelance content writer. Update your profile on LinkedIn, build connections with companies and individual startups to establish your presence in the world of freelance content writing. Let the world know about your work and the clients will be able to place you in their radar quite easily.
5. Know the value of your words
Your words are the most valuable possession, don't sell them off for nothing. Even if you are a beginner in the content writing career, but if your creative flow is up to the mark, do not hesitate in asking a fair price for your work. However, as a newbie you may find it difficult to land on a big scale, there you need to have patience. For an already established blogger or writer with job experience of 1+ years, surf the market, consult few people to know the exact rate in the industry.
6. Learning never stops
While writing blogs and reading for your research is a great way to enhance skills, there are always new and more proficient ways to increase your skills as a writer. Content writing in India in growing at an unprecedented pace where industries are looking for content strategist, content marketing, and blog manager. These roles align with the job of a content writer and the companies today look for a package deal in order to get work done easily and quickly.
The bigger the package deal, the more you can earn from your services. In the age of digital learning, you will find numerous online courses to enhance and build around your content writing skills. To name a few are; Coursera, Udemy, LinkedIn learning, EdX, Alison, and more.
7. Connect with fellow writers.
Social media is a great tool to procure clients, but did you know you can also follow the work of some amazing writers online? Reading for your research and learning courses are a great way to learn, but peer learning is something that creates the urge to learn. Follow the work of big to small writers, make connection with them on LinkedIn and maybe share their work also. Now if you ask why sharing their work is important, because it becomes more likely that people will refer you for opportunities of freelance content writing.
8. Sub-contract to sway off burden
Are you struggling with too many clients at a time? This must be quite a good feeling to be in demand, but it also adds a lot of burden to your existing work. However, a great way to progress in the market is your client base, but how do you handle all the work at same time? The answer is simple; You don't, yes you need not manage the extra base of clients yourself rather hire a sub-contractor and delegate new clients to them.
They do not act as your employees but rather just lay off the burden from your shoulder by charging a reasonable rate. In the end, you become responsible to look over your sub-contractor's content along with the task of procuring client, communicating, and collecting the payment.
Let us summarize;
Freelance writer is a soul who will begin their career with full dedication and passion. With some added spices of curiosity and skills, your content writing career as a freelancer will hit the right path. A writer knows the importance of communication and so communicate your presence, niche, and excellent to the clients. The more efforts you will put to make yourself visible in the market, the more growth awaits your way.
All you need is that one step of courage. The journey may hit a few road bumps, but if your passion for writing is true and efforts are put in right, success shall fall in place.
You may also like to read this Post:-
Everything About Content Writing and Content Marketing