4 Steps to Capture the Craziest Moments at Large Concerts
Taking photos at big events with a lot of crowds is a special challenge for each photographer out there. Even those people who have experience shooting similar events can also face difficulties and struggle to get the shots they want.
Additionally, even experienced concert photographers take a lot of photos during one event and only a small portion of them "survives" the selection afterwards. If you thought weddings were difficult, then you should try photographing big concerts.
Being at a major event such as this can be a nuisance even if you are just a visitor, so just imagine carrying around a camera with you through all the large crowds. However, don't be worried, there are people who've been through this, and they can share valuable tips with you.
1.     Get informed about the concert venue
The first thing you need to do is a bit of preparation for the whole thing. Get as much information about the concert venue as you possibly can. You need to find the answers to several questions – How many people are expected to show up, What is the capacity, How is the crowd going to be separated (because it always is), Where do people usually gather the most, etc.
All of this knowledge is quite important if you want to be able to find your way during the whole night. No matter how much you want to plan the whole thing out, you will never be able to stick to your schedule, because this is not a controlled event and a lot of people are going to be there.
No matter how well you plan, improvising and making the most out of the current situation is what it's all about. Finding your way in all of this chaos and improvising where needed is the best thing you can do. When you get informed in advance, you will know what your options are once you are there.
2. Be prepared to push way through masses
If you want to capture those exciting moments that only happen at big concerts, then you will have to be where all the action is. This usually means somewhere in the front, but it doesn't have to be. Still, big concerts mean big crowds and there is no way around it.
This is unless you are, of course, a famous photographer who has a place reserved for him/her, and given the fact that you are reading this article, it's safe to say that you are still not at that level. You must act quickly and take chances when you get them. You won't get a lot of chances to move around, so when you do get an opportunity, take it.
If you want to be at the hotspot, it usually means little space and a lot of people around you. Forget about the idea you had; this is a jungle. In most cases, you will find a small spot where you can get clean shots off, and this doesn't mean being comfortable, but when you do get those shots, you will get an amazing feeling of accomplishment.
3. Adjust shutter speed
The shutter speed adjustment you need for concerts is much different than anything else, and it's quite important. Your shutter speed range should go from 1/250 or even higher if needed. If you have slower shutter speed, you will start capturing images which are blurred and unclear, and you don't want this.
Still, you should remember that there are always exceptions to rules, and this is no different. For example, if you are photographing a concert at a club where there are little lighting and the whole band is quite static on stage. You can take shots with slower shutter speed.
In this situation, you will have no blurred images. The more the things you are taking photos of are moving, the higher your shutter speed should be. No matter if we are talking about the crowd or the artists on stage. If you are taking photos of a rock or metal concert, make sure that your shutter speed is at least 1/250; you won't make a mistake.
4. Patience is important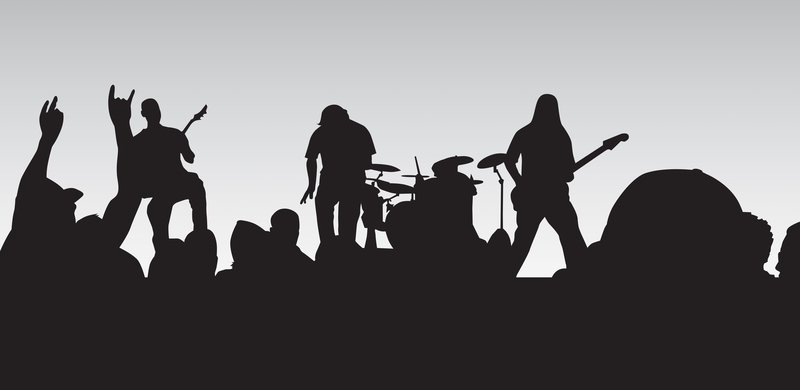 When I said that you should take as many shots as you can, I meant it, but this doesn't mean that you should try to capture impossible pictures. When there is absolutely no light, the angle is impossible, and there are a lot of people in your way, you shouldn't pressure yourself to take shots.
Sometimes there will be multiple bands, and all of them will have a little time on stage, this means you will also have little time to take good shots. Instead of trying to take shots from difficult positions, try to move around as much as possible and get a couple of quality shots instead of taking dozens of really bad ones.
A concert venue can be quite intimidating for a photographer, there is either very little light, or the reflectors keep ruining your shot with severe flares. However, don't pressure yourself even further, learn your camera setting and change them adequately during the concert. Even if some photos come off badly, you can do some photo editing to improve your images.
Conclusion
These are the four essential things you need to remember when photographing music concerts. Of course, you won't be able to learn your way instantly; you need experience and time to become really good at this and recognize the right moments to take shots.
Additionally, if you are already a music fan and went to a lot of concerts in the past, capturing those crucial moments will be easier for you. A concert is a performance, and you need to keep up with the whole show. Follow the story, and you will capture those essential moments.